What does preserving the USS Arizona, tracking weather patterns during a solar eclipse, and controlling security risks on your tablet all have in common? They've been identified as our readers' most read blog posts on government IT for 2017!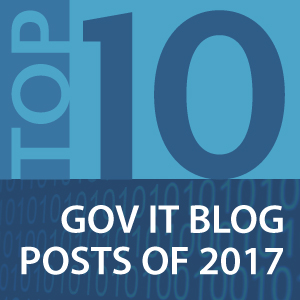 During the past year, our readers were interested in: establishing a secure mobile workforce, promoting a transparent and active social media presence, and learning more about how agencies and the private sector are tackling new technology initiatives and projects, among other topics. Continue reading to learn more about what interested our readers the most in 2017 and what we think will be trending in 2018.
Preserving history is a complicated, expensive and very technical endeavor – especially when the landmark is underwater. On December 7, 1941, the United States naval base at Pearl Harbor, Hawaii was attacked and we lost 900 brave sailors and marines on the USS Arizona. Fast forward 76 years later as the National Park Service is trying to preserve and learn from the sunken USS Arizona.
Pete Kelsey, a geospatial technology evangelist, and his team used underwater laser scanning, traditional sonar and terrestrial LiDAR, to create a model to help with preservation and historical retelling – read more on how they did it.
An indefinite number of new machines will be added as a result of the Modernizing Government Technology Act, which means a spike in communication between machines under each federal agency. While the current cybersecurity practice for machine-to-machine communication focuses on encryption, that alone does not guarantee 100 percent safety. As hackers look for ways to evade encryption, they are finding hijacking machine identities to be incredibly effective and lucrative.
Read more on how agencies can keep their machine-to-machine communications secure by using cryptographic keys and digital certificates to enhance encryption efforts.
Networks are constantly evolving and expanding – affecting the way we monitor and manage IT infrastructure. Increases in web traffic and the passing of more data makes it more complex for IT teams to distinguish authorized users. To prevent your infrastructure from becoming a victim of command and control (C&C) attacks, ensure all of your traffic is authorized. Network visibility allows you to do so by improving decision making over network and security operations, therefore, reducing stress on your infrastructure.
Learn more about network visibility and how it can help prevent C&C attacks from happening to your agency.
As the total solar eclipse made its way through the U.S., millions of Americans looked outside and saw their typical daytime view enshrouded in darkness. For those who couldn't make it outside, GLOBE.gov  an international science and educational program provided the public worldwide a chance to participate in the collection of ecological data during the eclipse to contribute to the understanding of the Earth and its orbit. Citizens submitted measurements on temperature, clouds, and wind, to further study the effects of lower solar energy on weather patterns across the world.
Read more on the story behind GLOBE.gov and how the program's website was able to manage the influx of users and information during the total solar eclipse.
In honor of National Cybersecurity Awareness Month, Steve Jacyna, Carahsoft's Cybersecurity guru, compiled 20 tips on how to improve and maintain your online safety. These simple steps such as avoiding public Wi-Fi when possible or deleting unused apps can help prevent your device from being compromised by cyber criminals.
Read the full list and learn how to make simple changes to help increase your cybersecurity measures.
Social media has allowed us to access information and communicate with a vast audience at the palm of our hands. With that being said, citizens' expectations for attaining information and answers are high. Now more than ever, it is critical for the public sector to adopt social media into the work environment; 40 percent of U.S citizens reported that the integration of government digital services with social media was a high priority for them. With the expectations set – do you know what platforms to use?
Learn more about the best platforms to use for reaching individuals who seek direct communication and information with their agencies.
Mobile technology has changed our perspective on how we manage information flow in our work environments – especially when that work environment is on a vessel or out on the battlefield. To be able to prioritize security threats and risks while on the go, adopting a culture of data and advanced analytics can help improve safety and security. Making a single user-friendly data library available on a handheld tablet will also allow employees to access real-time data at any time, at any place, and on any device.
Learn these three simple steps to help your agency gain real-time data when it is needed – empowering the mission user to make smarter and quicker decisions while on the job.
One of the most important priorities for any company or agency today is security – for the office, PCs, data, and now mobile devices. With the risk of having confidential information stolen through data breaches that are growing daily, agencies must prioritize protecting data on employees' mobile devices.
Read about the best practices agencies can follow to establish mobile security, as well as what the future might hold for mobile security.
The interaction between government and citizens has changed drastically due to the growth of social media.  Before social media, communication between government agencies and citizens were a one-way channel. But today, discussions are being held more openly and are becoming a two-way street. To get the most use of social platforms, employing a strategic approach will enhance the citizen experience and create a transparent social government.
Discover the reasons why government agencies need a centralized and strategic social media presence – and learn how social media will reduce communication costs, expand reach, easily share information, and help monitor social media accounts.
Mobile devices have been well-integrated into the workplace, particularly in the private sector. In 2015, more than 61 percent of private sector employees reported working outside of the office – typically on three or more devices. Agencies have the means to match the productivity of the private sector, however, security is a crucial concern. Mobile infections are increasing. Before allowing government employees to use mobile devices for work purposes be sure to know the best practices to keep portable devices secure.
Follow these three easy steps to help prevent mobile infections.
And that's all folks! We hope you enjoyed catching up on the top 10 most-read trends on our blog from 2017. These topics are certainly an early indicator what's on the forefront of government IT interests as we start 2018.
Thanks for being a loyal reader. We look forward to being your go-to source for the latest technology trends in 2018! For the latest trends, tips and stats on these topics and beyond, follow us on Twitter and Facebook.