Government has realized that building a GIS platform with proprietary and open source technologies can help agencies reduce risk and add value to their GIS architecture by avoiding single-vendor lock-in, minimizing costs associated with unsustainable proprietary licensing models, and promoting interoperability with existing software and architecture. Hybrid GIS architectures are allowing users to adopt more gradual, risk-appropriate migration strategies that avoid the rip and replace method that can destroy agency tech budgets.
Many times, it's also nearly impossible for agencies to migrate their entire architectures to open source software either due to feature limitations, the sometimes steep learning curve, or cost. However, implementing open source in portions of the GIS architecture is a great alternative for those who want to move their software over at a more manageable pace or who only want to adjust certain pieces of their infrastructure. By migrating to a hybrid proprietary and open source model, agencies can ease the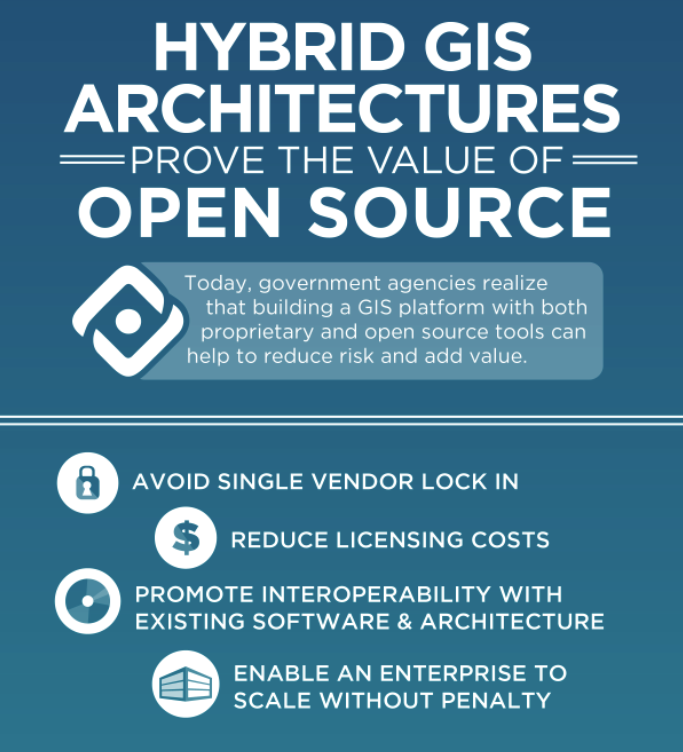 e introduction to new software for end users by minimizing change with an application or database implementation. Management also reaps the benefits by cutting costs on underutilized, expensive proprietary software and directing that capital elsewhere.
With Boundless OpenGeo Suite, agencies have the flexibility to choose the GIS software that fits their needs, whether it's the database software, the application server, or the user-interface tier. In OpenGeo Suite, these applications don't strictly depend on each other so the solution is fully customizable, meaning IT teams can work on integrating open source one-tier at a time without interrupting the entire enterprise. In addition, the ability for government customers to create a custom, interoperable GIS solution and scale without penalty proves massive benefits, especially with continuously changing requirements and tight IT budgets. Even more, hybrid migration strategies are targeted at non-power users so agencies can quickly realize significant savings in license costs.
To learn more about the hybrid architecture model that is helping countless agencies and organizations reduce risk and add value to their geospatial initiatives, download this Boundless infographic and be sure to visit Boundless at GEOINT 2016 in booth #1628.