"Adventure is a crisis you choose to accept; a crisis is an adventure that you refuse."
– Dr. Bertrand Piccard.
This past November I joined Carahsoft. When my old friend Carahsoft founder and president Craig Abod and I started talking it was clear to both of us that Carahsoft was a great fit for me – nimble, welcoming and encouraging of innovation and creativity, while committed to and celebrating a deep sense of teamwork.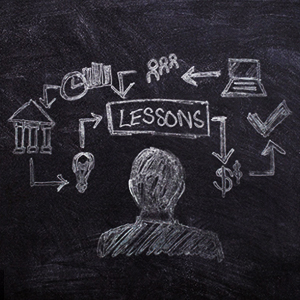 In my role as a technical evangelist, and CTO of sorts, I'm starting my journey here by looking at Carahsoft solutions holistically. We work with all the big tech companies, including Google, SAP, Adobe, and, yep, Autodesk, where I spent the last 11 years of my career. For me, investigating possibilities with tech giants like this is pure bliss – I get to play Dr. Frankenstein, taking bits and pieces of this tech and that, crafting them into first-to-market solutions that provide extraordinary value to Carahsoft customers and partners.
As a "customer first" company, Carahsoft is committed to engaging in projects with customers, so I'll be continuing on with strategic project management focusing on facilities management, operations and maintenance, security and safety. These engagements provide the ideal path to partnership, trust, and success.
For me, my role at Carahsoft is a homerun. I still get to work with my colleagues from Autodesk and the technology that I feel so passionate about. I have the support of a successful private company to go forth and try things, break stuff, innovate . . . and I get to be where I want to be: With the customers, helping to solve their problems while creating and fostering long term relationships.
I've been working with a variety of government customers since 1995. Through the years I worked in engineering firms, I was an independent consultant, I owned a technical services company and before joining Carahsoft I was a full time employee for a large software company. In other words, I have used, learned, evangelized, demoed, sold, taught, written about, spoken about and used software professionally in the public sector for over 20 years. In that time, these are three lessons I have learned that will serve as a guide in my new role with Carahsoft:
1. The government takes longer – and that's ok.
Of course the government takes longer to choose, purchase, and implement technology – it's supposed to! The many regulations that state, local, federal agencies must follow are there for good reason. Frankly, I like it this way. It forces one to focus. Look at the long government sales cycle as an opportunity to build trust. For the sales folks out there, be genuine and things will start to click. Government employees are some of the hardest working people I know. They're innovative, dedicated to their mission and I owe any success I've had to countless government employees who have gone far beyond the call of duty in order to do business together.
2. Vendors are driven by their CRM.
Like it or not, the hard truth about folks who sell to the government is that we are, more often than not, and by ever increasing number, driven by customer resource management (CRM) software. These tools track leads, contacts, conversations, buying history, spending trends, you name it – everything relevant to closing sales. As valuable as CRM tools are, they neglect the most important part: the actual relationship. If you are a sales person, if at all possible, take the time to go see your customers. If you're a public sector employee, encourage sales professionals with products you're interested in to sit down with you for an in-person meeting. Without an actual relationship, and the trust that comes from building it, the relationship will be tactical and transactional rather than a strategic, genuine partnership.
3. Everyone likes to buy, but no one likes to be sold to.
I am committed to project engagements. What customer would say no to an offer to engage together on their project? In doing so, genuine relationships are forged, trust is built, and as a byproduct (assuming all goes well) the tools I bring generate interest, and then sales. The sale, if any, becomes a byproduct of the activity. It happens organically. This fits very well in the public sector as the culture there forces caution and leans toward late adoption versus early adoption of new technology. I never show up with the 'sparkliest' object I have. My approach is to say, "Let's go do something important, and along the way you'll be exposed to what's relevant and useful." Then we can forge a plan to implement the interesting bits. In short, I prefer to inspire rather than to sell.
Talk about an Adventure in Rediscovery! I have rediscovered the corporate world from a new angle – one I thought I knew well. All it took was finding the courage to change my vantage point – an adventure if ever there was one. I have also rediscovered within myself a deep, dormant passion for technology, success, and esprit de corps. I am grateful. I am humbled. I am psyched.
Attending GEOINT this year? Meet Pete Kelsey and try his virtual reality experience of the USS Arizona at Carahsoft's networking reception on April 24.
More from Pete Kelsey: The Power of Digital Experience: What New Technology Revealed About the USS Arizona and Pearl Harbor