Rationalizing Your Workloads
The thought of moving everything—forklifting all workloads—to the cloud can be pretty daunting. Instead, government agencies should consider a Cloud Smart policy, a measured approach that takes workloads and rationalizes technology—simplifying and modernizing the enterprise while moving capabilities, rather just relocating existing complexity to the cloud.
This approach requires planning. Organizations need good data management and visibility across the enterprise as they move workloads or parts of workloads into the cloud while other parts remain on premises. What constitutes an enterprise service may be split between one or more cloud services as well as an on-premises footprint. In addition, cloud platforms are always evolving.  As they acquire additional capabilities, agencies can reevaluate workloads they initially planned to have remain on premises.
Knowing What the Cloud Can Do for You
A successful cloud strategy depends on really understanding what the cloud can do for you. Five years ago, everyone believed that the cloud was simply hosting: you get the same things in the cloud as in the data center. However, the reality is that the cloud provides dynamic workloads that can grow and scale to your needs. It is constantly patched and updated—and professionally secured. In the federal government, they follow a FedRAMP or DISA authorization, which provides tremendous capability and convenience.
Agencies moving into the cloud usually want to adopt 4-6 major platforms for capabilities: Infrastructure-as-a-Service, HR, IT CRM, and maybe an engagement layer or marketing or finance. As those platforms grow and mature, customers can consider moving additional workloads from on premises.
Improving Usability without Re-engineering
The cloud environment can provide real benefits to customers. ServiceNow has a large federal healthcare customer with more than 50 different HR systems. Each HR organization had its own budget and mandate to operate as it wanted. But the customer found it challenging just to answer simple questions—like how many employees work for the agency—since information was spread out across dozens of systems.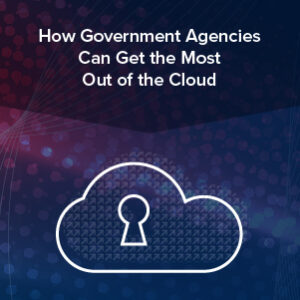 When ServiceNow came in, they left the systems of record in place and put a workflow on top of them—to integrate and surface that data through a single engagement layer. Now the customer can get answers to questions and also easily orchestrate use cases like employee onboarding or a name change after an employee gets married. The new solution provides great functionality without needing to re-architect the backend systems.
ServiceNow also created a standardization process for getting information into each HR system—without re-engineering and enduring the accompanying growing pains. Our platform has a configuration management database that allows us to map data from various systems of record into a common data model. Then we can easily report on it, present it to different users in different ways, and effectively liberate it to the organization.
Deploying Laptop Configurations
Another customer, a federal government healthcare organization, needed to scale up their work-from-home capabilities during the pandemic. They had to ship 225,000 laptops to employees, but each one had a particular configuration: specific patch and security levels. The organization also needed to track the laptops and figure out how each element was performing at any point in time. ServiceNow helped them rapidly deploy these capabilities and enjoy true visibility into their assets—even though different parts of the organization recorded the tracking of their laptops in different ways.
Tracking PPE for Returning to Work
ServiceNow helped another large government organization track personal protective equipment (PPE) as employees prepared to return to the workplace. Over a handful of weeks, we built a return-to-workplace set of applications that allowed them to track PPE and conduct check-ins with their employees. This information was reported to executives in a dashboard, allowing them to see their organization's situation in terms of health, return to work status, and PPE inventory levels necessary to maintain operations.
Integrating New Technologies
No government organization wants to be the first to adopt an emerging technology—or the last. Most agencies would prefer a measured approach in evaluating these technologies, but cloud vendors innovate at a rapid rate, updating their platforms on a regular basis and adopting new technologies. Agencies should remain aware of this evolution so they can take advantage of the latest innovations.
Visit our website to learn more about the GovForward: Multicloud Series and FedRAMP through our additional resources.