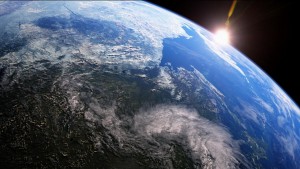 On Monday, August 21, 12 million Americans will look out their windows and see their typical daytime view enshrouded in darkness – at least for a few minutes, anyway – during the 2017 Eclipse Across America. This rare total solar eclipse will stretch from Oregon to South Carolina over a span of four hours.
A select few of those within the path of the eclipse are choosing to cast aside their protective glasses and focus instead on the glow of their computer screens. Using a major international scientific data collection program, GLOBE.gov, amateur scientists and private citizens will be able to measure temperature, clouds and wind data during the eclipse, and capture that data in one place to enable further study of the effects of lower solar energy on weather patterns across the planet.
The Story Behind GLOBE: A Community of Student Scientists Evolves
Sponsored by NASA and the National Science Foundation, and in cooperation with the Department of State and NOAA, the Global Learning and Observations to Benefit the Environment (GLOBE) Program was founded on Earth Day, April 22, 1995. Its mission: to engage students from communities worldwide as active participants and important contributors to a global database for use in inquiry-based science projects. To date, more than 100 million measurements have been recorded by GLOBE students, who range in education levels from kindergarten to postsecondary.
The science and education program has now evolved to include 116 countries and partners since its inception. Yet, along with the international success, came growing pains as GLOBE struggled to support its expanding user base, hobbled by a 15-year-old data and information system (DIS) hosted on too many technologies. NASA decided to move forward with a complete redesign and set about rebuilding the DIS.
As a critical first step, the Science Systems and Applications, Inc. (SSAI) team chose Liferay's digital content management and collaboration tools for the ambitious system overhaul. Liferay offered the ability to integrate with back-end systems, saving past data while supporting a growing network of customizable pages for more than 100,000 individual users on top of 30,000 organizations. Additionally, Liferay's language support capabilities and scalability facilitate GLOBE's international mission.
GLOBE in Action: Will New DIS Deliver During Solar Eclipse 2017?
Fast-forward five years, and we find ourselves three days away from the 2017 Solar Eclipse, which provides GLOBE with a unique opportunity to test the capabilities of their upgraded DIS on a larger scale.
NASA's official page for the solar event ranked as the 11th most visited website in the federal government with over three million visits this week, outranking NASA itself, and interest is guaranteed to grow as the eclipse gets closer. The number of website views on NASA and its associated websites will spike as eclipse chasers and enthusiasts outside of the viewing range seek information on specific timing, weather conditions, photos and reports.
Fortunately, GLOBE.gov is well situated to deal with the influx of data to its servers. Since its revamp in 2012, the site has already seen a 20 percent increase in monthly traffic, allowing its developers to experience and balance higher demand.
Collecting and analyzing the enormous amount of data from the rare information private citizens will be sharing from the eclipse would be an impossibility without GLOBE's web-based data and information system. Now, with the right tools in place, GLOBE.gov will be able to capture that data for future use, making the eclipse not only a historic natural phenomenon, but also an unprecedented digital experience.
For more information on creating digital experiences on web, mobile and connected devices, see Liferay's resources.