Virtualization and IT consolidation, for many states, for many states, IT consolidation has been one way to achieve economies of scale that allow valued IT services to continue despite decreased budgets, hiring freezes, and limitations on purchasing. In Pennsylvania, state leaders were well positioned to achieve these types of cost benefits, as the commonwealth has been pioneering consolidation for years.
Since early 2008, virtualization – which allows Pennsylvania's Office of Information Technology to run numerous virtual servers on one physical server – has been a major part of the state's consolidation strategy.
"Our virtualization efforts to date have been extremely successful and are the foundation of our broader vision of providing private cloud services to state agencies – essentially transforming our operational model into an 'IT as a Service" platform," said Pennsylvania CIO Tony Encinias.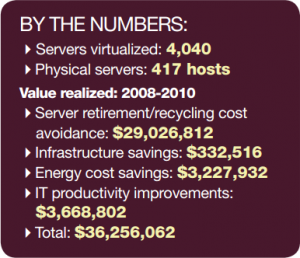 The state has used VMware vSphere to virtualize approximately three-quarters of its servers. Since deploying VMware virtualization technology, Pennsylvania has saved more than $36 million in new server purchases, productivity improvements, energy costs, and infrastructure expenses.
A study by VMware and Government Technology analyzes this data across energy savings, productivity improvements and the server retirement cost avoidance.
"We must become customer-centric to allow us to be the preferred IT service provider for agencies," said Encinias. "By becoming more efficient on the infrastructure side through virtualization and developing sound back-end IT business processes, such as adopting the ITIL framework, we have a sound model for success."