Following in the footsteps of global business, government agencies are increasingly looking to the cloud to improve operational efficiency, make IT systems more resilient and provide better user experiences for stakeholders of every kind. But while the possibilities are endless and the benefits abundantly clear, making the vision a reality isn't always as easy or straightforward as it may at first seem.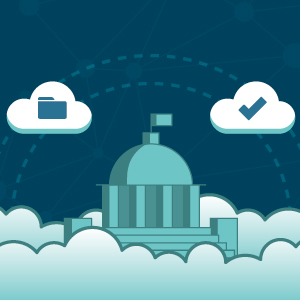 When it comes to moving to the cloud, the challenges are many: cybersecurity concerns; mission and operational disruption; lengthy onboarding and the dreaded gap between time commitments and perceived value. As a result, many government agencies struggle to move forward with cloud migration, while also balancing the demands of day-to-day operations and adhering to all of the mandates and compliance rules imposed by other government officials.
Faced with a choice between planning for the future and addressing everyday operational challenges, many government IT teams go for the low hanging fruit, focusing on non-mission-critical applications first as they migrate to the cloud. But to truly transform enterprise IT, government agencies must also consider the most complex, mission-critical enterprise applications. That means understanding how to properly assess and choose the right multi-tenant, federal-compliant clouds that can provide the performance, reliability and resilience that mission-critical government applications need.
Here are three things every government IT leader should consider when planning a mission-critical cloud migration.
Every Cloud Migration is Unique
While there are many best practices in cloud migration, there is no one-size-fits-all approach. Every organization has a unique set of assets, applications, technology and talent to take into account — as well as challenges and limitations. The same goes for the cloud platforms available to them: Each one has its own strengths and weaknesses. The key is finding alignment.
It's no surprise then that pace-setting organizations tend to select platforms on an application-by-application basis instead of placing all of their eggs in one basket and doing their best to make it work. By that same token, many also incorporate multiple vendors into the process.
That's why a single standard cloud migration model is insufficient when moving mission-critical workloads. What's more, because most existing mission-critical applications were designed without cloud platforms in mind from the start, the overwhelming majority of new adopters also face performance challenges post-migration if they don't plan accordingly.
It's Easy to Lose Sight of the End Goals
As already discussed, the upfront costs of cloud migration may at first appear to outweigh the benefits. But you can't lose sight of the forest for the trees. The path to cloud may not be quick or easy, but the benefits of the cloud are many. If done correctly, a cloud migration can simplify an agency's operations, reduce operating costs, enhance performance and introduce scalability into their IT mission. Once a mission-critical application that was previously housed in a traditional IT environment moves into the cloud, organizations can scale their use depending on the mission requirements at that time.
In addition, government agencies that take a multi-cloud approach can scale their needs across multiple vendors and platforms, opening up a plethora of possibilities only dreamed of in an on-premise environment. When performance is the key factor in citizen satisfaction, cloud scalability offers a new solution to the issue of rising demand on limited resources. What's more, moving to the right cloud platform can help to facilitate the digital transformation by tapping into additional platform or other digital services offered by the cloud service provider. That way, agencies can migrate, gain performance and start on transformation all in one move.
Ecosystems Make the Cloud More Powerful
At the end of the day, different cloud platforms from different providers will meet different needs, and none will meet all requirements for the many applications government agencies use. But choosing a vendor whose solutions readily integrate with other platforms, both cloud and non-cloud, makes the process that much easier.
As a Dell Technologies aligned business, Virtustream is uniquely positioned to draw on the expertise and offerings of a broad portfolio of businesses, offering solutions that meet needs across the IT continuum from the endpoint to enterprise hardware and software, to security and professional services. Dell has everything that you need to accomplish your digital migration. Migration for mission-critical applications is the first step in a larger move to full cloud solutions.