A dizzying pace of communication with anyone, anywhere; instant access to information with one click; and a tolerance for interacting in front of open, anonymous audiences: These describe the citizen experience today, which has been profoundly altered by the epic rise of social media. And with new norms have come higher expectations of what it means to be accountable, transparent and competent today, in private and public sectors alike.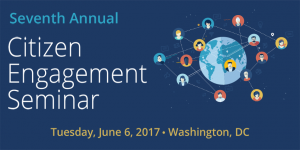 According to a 2016 Accenture study, 40 percent of U.S. citizens reported that the integration of government digital services with social media was a high priority for them. That's up from 20 percent in 2014, which illustrates how rapidly citizens' expectations are rising – and how steep the climb is for government agencies trying to keep up. These trends have created new responsibilities for our agencies, both in the way they reach out to constituents and the way they listen and respond.
Reaching Out to Constituents Where They Are
People increasingly turn to social media rather than agencies' websites to find information and communicate. Twitter, with its rapid-fire flow of public dialogue, is most often the social media channel of choice for citizens seeking direct communication – not surprising given the high value the public places on speed and accountability. Indeed, 53 percent of the population expect a response to their Twitter posts – questions, comments or grievances – within one hour of posting them.
If people prefer to engage via social media channels, then government agencies have a responsibility to meet them there – and that may require major changes. Culture, employee skill sets and outdated processes are all systemic issues that hinder some agencies as they attempt to connect with citizens and meet expectations, but there are steps they can take to move forward.
Expand the base of employees with social media responsibilities: Train and empower more employees to communicate with citizens via social media to meet the demand for quick and knowledgeable answers.
Make use of social media management platforms: Enable agencies to increase communication output and citizen engagement – especially in crisis-management situations, for which messages can be prepared ahead of time and executed as needed.
Hearing What Citizens Are Really Saying
The relationship between citizens and agencies has become more complex as the flow of communication has moved beyond a one-way channel. No longer do constituents communicate predominantly up the chain during polling or at the voting booth, and that new pattern of communication is creating a whole new set of data in real time. Agencies would do well to pay attention to this information and use it for decision-making and engaging with citizens.
Consider the role of social media in predicting the winner of the 2016 presidential election: there wasn't one. Instead, grossly incorrect predictions of the winner resulted from overreliance on traditional polling data alone. Had the data from social media – which was under our noses the whole time – been given its proper due and included in the calculations, we might have preempted the shock many Americans felt when the votes were tallied. The 2016 election is an extreme example, but it makes a point about the value that agencies – and everyone – can derive from social media data.
When it comes to citizen engagement, a healthy social media presence has gone from a "nice to have" to an essential component of every agency's communications platform in very short order. Learn more about how to create and manage one for your agency.