In recent years, citizen satisfaction with the federal government has been cast into the spotlight. Performance goals to keep pace with the private sector have accelerated, from proposed bipartisan legislation that would amend the Paperwork Reduction Act, to the Obama and Trump Administrations' heightened focus on service delivery. As budgets tighten, however, improving the experiences citizens have with government will require better data about citizen interactions than ever before.
Closing the Experience Gap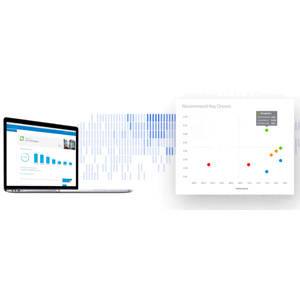 This need becomes even clearer in the context of the "experience gap." Most executives believe their organization is delivering a superior product or service, but very few understand where their customers have negative experiences. Thus, the distinguishing factor of successful companies like Amazon, Google and JetBlue is their ability to produce the product, brand and employee interactions their customers expect. Similarly, awareness of the experience gap allows public sector agencies to understand where they can improve their services.
Both citizens and government entities at the highest levels have echoed the same expectation – well-designed and efficient services that keep pace with leaders in private sector, despite lagging agency experience delivery as reported by the Forrester's 2016 Federal Customer Experience Index. Notably however, several agencies rose to the challenge, reporting improvement leaps seldom matched by companies in the private sector. This progress exhibits vast opportunity across government to keep pace with expectations.
Continuing Excellence—Study
Clearly, understanding how government agencies reached these approval ratings is critical to sustaining any upward trends. Agencies have expanded infrastructure and dedicated resources toward this end-goal, but they haven't updated operating rhythms to centralize data. This lack of organization results in duplicate datasets and delayed times between collection, analysis and reporting. Often issues gleaned from the data can take months or years to identify, at which point any corrective action would be misguided.
In addition, experiential data isn't combined with operational data to place context on feedback. A citizen who reports they're dissatisfied with a webpage they spent five seconds on doesn't carry as much weight as one who browsed for five minutes. This feeds directly into the greatest challenge facing surveyors: measuring success, not just satisfaction.
Success and Equal Access to Data
For too long, government agencies have considered satisfaction synonymous with success. Often, a citizen who succeeded in their interaction with an agency will be satisfied, but this metric provides an incomplete measure of whether the department is accomplishing its core mission. Were their needs met? If not, why not, and how can agencies improve their experiences and deliver on the purpose of our citizen interactions moving forward?
To accomplish this, employees should have equitable access to pertinent data between and within organizations. Agencies should share best practices and tools to allow for constant measurement and continual improvement across the government sphere. To enable government efforts, enterprise experience-management platforms collect data in one location and analyze it in real time to determine corrective issues. These central platforms also enable sharing among departments, allowing agencies to collaborate on measurement strategies and corrective actions. Enterprise-level experience-management solutions will provide federal decision makers with insights to improve critical services despite tightening budgets and heightened public expectations. Measuring success is the key to improved performance.
Click here to learn more about enterprise experience-management solutions and earning public trust.