For much of America's history, public sector communications relied on gatekeepers like the media deciding to share a government agency's information. But citizen engagement has changed as new technologies have been introduced. Today, more than 90 percent of government agencies include an engagement-related objective in their plans to meet their objectives—and they can accomplish that goal by deploying digital tools to communicate with targeted audiences.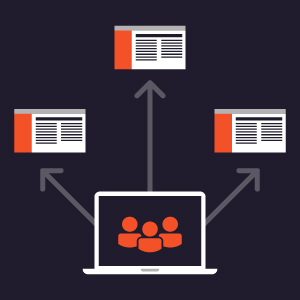 The increased availability of these digital engagement tools provides an exciting opening for the public sector to improve the way it engages people every day. For example, agencies are now collecting email addresses and leveraging technology to send personalized information directly to their constituents that's relevant and timely.
Digital methods to improve citizen engagement have three core objectives:
Enhancing public awareness
Improving public involvement
Promoting online services
Laying the Groundwork for Success
As agencies evaluate and implement digital engagement technologies to achieve these objectives, consider the following tips.
Map the citizen journey. Starting with initial contact with a citizen and going forward, identify key touchpoints that people have with your agency. Points of contact could range from in-person interactions at the office to social media outreach. Ask the right questions: How are citizens engaging with your website? What type of experience would I want a citizen to have? What are the key areas where your agency can engage and interact with them?  Measure the success of these interactions and then focus on improving them.
Identify who to reach and how to reach them. This process starts by first defining the outcomes your agency wants to achieve. It's important for communicators—or anyone in an agency that's responsible for citizen engagement—to be at the table with the executive teams who are developing the strategies. Then, identify the relevant audience, making sure the correct technical tools, and a team with the skillset to use them, are in place to reach that audience.
Measure and analyze your success. Use the data generated by those interactions to continuously improve on methods. Monitor what works and what doesn't to engage citizens. Make adjustments from there as needed.
Streamline workflows on the backend. A complicated workflow can be a frustration for a customer or citizen. Take advantage of the technology available to streamline workflows, enabling easier collaboration among workers and increasing efficiencies.
Government shares the same audience. The more that agencies collaborate, the more efficient and effective they will be. Enterprise software systems that can scale and integrate with other systems that agencies manage enable them to share data across departments. These digital technologies provide a great opportunity to improve engagement with citizens, foster collaboration among the departments who serve them and provide a path for government agencies to reach their goals.