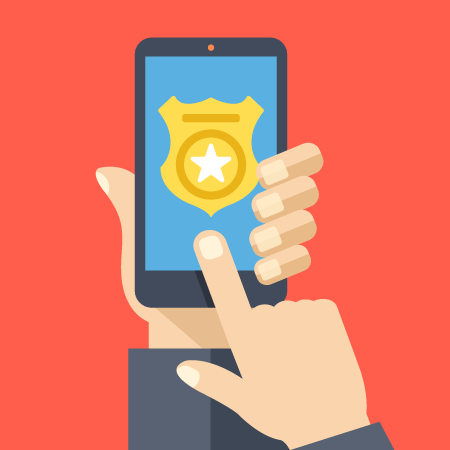 Around the world every day, digital data is impacting the way investigations are examined and completed. Today, mobile devices are becoming more critical for police investigations since these devices can reveal important details and insights that speed the investigation process and help to prove a subject's innocence or guilt.
However, to make use of this important mobile data, officers and investigators at all levels must assume new roles – not only do many departments expect them to collect and analyze physical evidence at a scene, they now must be able to confidently gather digital forensic evidence to meet increasing digital forensics demands. Unfortunately, many officers and scene investigators aren't certified in digital forensics procedures; this has placed extra strain on the most highly trained personnel who conduct deep forensics extractions and crime analysis. And given society's growing reliance on and use of mobile devices, the volume of mobile forensic requests is overwhelming departments nationwide, impacting digital evidence admission and causing significant case backlogs.
Arizona's Phoenix Police Department is a typical case of this kind of forensic evidence bottleneck. Shortly after digital evidence was suppressed from a homicide trial in 2014, Sargent Frank Pace, from the Department's Digital Forensics Investigative Unit, realized the entire organization needed to re-think how they collected digital evidence. At the time, the Digital Forensic Unit had a small team of only five sworn officers serving nearly every request from the department. Recruiting more of these highly specialized personnel was not an option, so Sgt. Pace turned to a better IT solution and policy change to counter the growing digital evidence backlog.
In order to meet increasing demands, the Phoenix Police Department set out to institutionalize a distributed workflow that armed officers and detectives with the ability to process mobile devices on site during their own investigations. To do so, Sgt. Pace determined three tiers of officers: tier one included the highly trained digital forensic experts who were to now focus on advanced analytics. The latter two tiers were trained on Cellebrite's Universal Forensic Extraction Device (UFED) InField Kiosk. Tier two was composed of investigators throughout the agency that already had sufficient experience in physical extractions; they received additional training on Cellebrite's technology. Tier three, consisting of officers and detectives that can appropriately triage scenes, was trained to competently perform logical device extractions using Cellebrite's UFED InField Kiosk and to confidently testify in court based on their digital evidence training.
With Cellebrite's proven technology, the UFED InField Kiosk enables real-time, forensically sound extractions of mobile device data by almost every officer. Arming field officers and investigators with easy-to-use tools to collect, preview, and share mobile data with the lab has freed up the top experts to focus on critical or complex cases and significantly reduced the case backlog, all while simultaneously increasing the efficiency of their digital forensic operation. By the end of 2014, through Cellebrite and a more distributed forensics workflow, the Phoenix Police department had over 80 personnel confidently using the UFED InField Kiosk.
With 5 kiosks deployed between Phoenix's PD and investigative detail, the department has conducted more than 400 forensically sound extractions using the UFED InField Kiosk. This success has reduced Sgt. Pace's, as well as organizational executives', tensions over valuable digital evidence being suppressed in upcoming trials.
For more information on how Cellebrite helped the Phoenix Police Department create a scalable investigative model and fast track digital evidence collection and qualification, read the case study here. To learn more about how Cellebrite's UFED InField Kiosks extends digital forensics capabilities to all layers of the organization, download this product overview.