Higher education institutions are faced with the challenge of balancing high-bandwidth access to resources while blocking potential threats and intrusions. According to Ed Tech, education sector data breaches have skyrocketed within the past year. With breaches up 103 percent, higher education institutions rely on modern security technology to keep data safe from threats.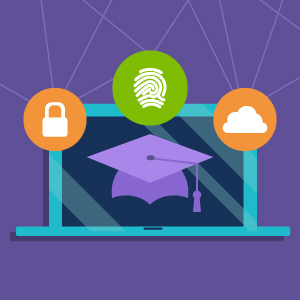 Here are five of the top challenges that higher education organizations face when it comes to securing their networks, and solutions:
Maintaining Student Satisfaction
IT teams must protect university-owned devices utilized by faculty and students from cyberthreats without disrupting user accessibility.
Advanced endpoint protection coordinates with threat intelligence and pre-emptively blocks known and unknown malware and, exploits any zero-day threats, enabling staff to use the web securely and safely. Ultimately, this allows safe access to resources and protection of intellectual property all while fulfilling the needs of those using the network.
Protect Against Cyberthreats
Keeping up with high-activity online environments is an ongoing struggle for IT teams, and, in response, agile security for modern higher education networks has become a priority. Higher Education security challenges can relate to a number of cyber threat categories:
Cloud Security: Many higher education institutions are investing in modern infrastructure for interconnectivity and ease of administration. Whether it's specialized cloud service or public cloud infrastructure education organizations need to ensure no threats infiltrate their networks while still protecting their data in transit.
Performance: Schools are consolidating their data centers while increasing virtualization within them to improve performance and productivity.
Valuable Data: Many cyber criminals seek monetary gain from the theft of cutting-edge research, payment data and personal information of faculty and staff.
Mobile and Smart Device Access: There is little visibility when so many smart devices are being connected to the same network. This also includes modern home security technologies.
Distributed Environments: Educational institutions manage many departments that maintain servers, desktops and other devices that are network-connected with varying levels of host protection. IT teams must protect these devices, especially ones employed for remote use.
Preventing Data Breaches
Real-time visibility is offered to educational institutions when elements share security context and work together to automatically prevent rapidly changing threats. These elements include threat intelligence, next generation security capabilities and advanced endpoint protection.
These fundamentals prevent threats from impacting students, endpoints, networks or data and reduce plethoric amounts of information from over-burdened IT teams. This greatly simplifies management and compliance while also reducing the possibility of misconfigurations and out dated threats.
IT must constantly update security posture to be effective in protecting an organization's network. Advanced malware analysis conducts dynamic analysis of suspicious content in a virtual environment to discover new threats. Security programs are continuously updated with new phishing and malware sites, malicious links in emails and a command and-control infrastructure, blocking any side from an attack.
This automation vastly reduces the operational burden of IT teams which would normally have to manually update multiple devices across the network to block even one part of attacks.
Supporting Faculty
By monitoring usage, higher education institutions maintain wider availability and better performance. Campuses can bolster academic resources while simultaneously reducing security risks that would affect the network and its users.
IT can identify and monitor thousands of applications traversing the network, including applications, ensuring that vulnerable systems – such as faculty computers – are protected.
Ultimately, administrators get valuable insight that can prevent security incidences with near real-time, simplified reports.
Falling victim to network security breaches may feel unavoidable in today's digital environment, but higher education institutions can meet the need to protect the privacy and security of their faculty, staff and users of their network by using solutions that put network security control back in their hands. Meeting the challenges above have never been easier with the next generation security solutions on the market today – it's just up to the institutions to choose the right path for their unique and dynamic network and user needs.
Discover how Palo Alto Networks' solutions addresses these challenges and more at the EDUCUASE Security Professionals Conference on April 10-12 in Baltimore, Maryland.