The Multiple Award Schedule (MAS), previously referred to as Schedule 70, is the General Service Administration's (GSA) go-to source for IT acquisitions. GSA covers federal, state, and local government as well as other areas supporting the government that are not necessarily .gov addresses: executive agencies and other eligible users.
It is the largest government contract, supporting more than $30 billion of purchases annually through GSA schedules—roughly one in every three government transactions is going through GSA schedules. There are over 17,000 GSA contractors and GSA advertises over 11 million different items available within their schedules program.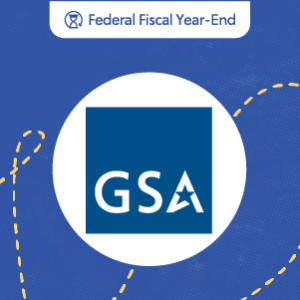 GSA is currently engaged in an activity called MAS Consolidation, enabling a new single solicitation process that streamlines terms and conditions across multiple schedule programs. This new process is GSA's effort to make it easier for both industry and government to contract by having a single, consolidated set of terms. Previously, there were separate schedules for different commodity types, i.e. furniture, office supplies, or software. Consolidation of the varied schedules will enable customers to find total solutions under one contract vehicle while ensuring that necessary terms and conditions are met.
How to Utilize the MAS Program
Carahsoft's GSA MAS Contract enables us to offer more products and services to the government in a streamlined manner. The need for duplicative GSA contracts has been eliminated and all products can be offered within the same contract vehicle. The prior Schedule 70 contract was specific to IT products and services; today we can offer products and services across lines of business without going through a new contract acquisition phase.
MAS was created in part because in today's environment, the half-life of a piece of software is six months to a year while hardware refreshes every few years. A contract vehicle like this allows agencies to keep up with the pace of change from a technology perspective and is a real enabler from a mission delivery perspective.
On the industry side, there is a process to apply for the schedules. You must meet the requirements of the schedules program, demonstrating past performance and agreeing to abide by federal acquisition regulations. In addition, there are some particular flow downs and other requirements of the contracts.
The contract acquisition process itself can be somewhat complex for industry, but once it is completed you have a direct link into the government contract and a marketplace that needs services and commodities of all kinds.
Benefits of Procuring Under the GSA Multiple Award Schedule
Speed:  GSA is recognized for its speed of procurement. Agencies know that if they purchase via GSA they will benefit from GSA's work with technology vendors and cost savings associated with volume purchases. Going through the regular contracting process could take up to a year to complete a purchase while GSA purchases tend to occur in a matter of weeks.
Best-in-Breed:  Agencies know they are getting best-in-breed products. GSA is the government's go-to source and vehicle for IT acquisitions, so agencies can be confident they will get the latest technology.
Small Businesses: GSA requires vendors to employ a certain percentage of small businesses, so it helps   agencies fulfill those small business mandated goals in the federal government.
IDIQ: GSA MAS Schedule 70 is an Indefinite Delivery/Indefinite Quantity (IDIQ) based contract. It's a pre-negotiated contract that includes pricing for products and services available at pre-negotiated rates, so individual agencies do not need to haggle; they just have to decide how much of a product they want and when they want it.
End User License Agreements:  GSA offers benefits in the area of terms of service and end user license agreements. Individual consumers usually must accept—sometimes disadvantageous—terms and conditions in order to use technology, but GSA negotiates with vendors before products are added to the schedules. So agencies can buy products from the schedules program with confidence that all the terms of that purchase are in line with federal acquisition regulations. Issues like auto renewals of service or subscriptions are pre-negotiated (and often removed) with GSA, so individual customers and agencies need not negotiate with vendors.
Count on Carahsoft and our reseller partners to deliver and implement cutting-edge cloud solutions and services at the best value. Request a Quote Today and start the conversation with our team on how we can assist you this federal fiscal year-end.
Related Articles
---

June 27th, 2022

Procurement can be achieved through efficient communication and collaboration, giving the federal government and private sector resources to spur innovation.

---

---

September 29th, 2020

The CDM program offers cyber tools to a variety of federal agencies. Discover what the DHS CDM program does and how it can help your agency procure cyber solutions.

---