It's not as if governments, whether federal, state or local, weren't aware of the problems their outmoded processes create for both employees and the citizenry alike.
When IDC surveyed 1,500 owners of document-driven processes worldwide, just 36% of government respondents thought their constituent-facing processes were efficient and effective, compared to 52% of private sector respondents.
But paper documents still drove 58% of their constituent-facing processes and 46% of internal ones.
Managers and directors of government departments and agencies are acutely conscious of these deficiencies. So, too, are the public sector employees burdened with making those processes chug along like rickety old railways.
Take these steps before taking the leap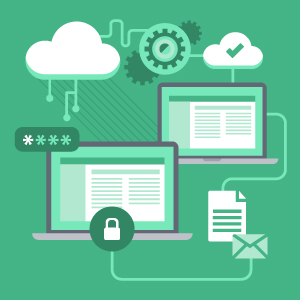 Workflow automation is the solution, but jumping straight into adoption can be a mistake, just as with any new platform or product. If you're tasked with the job of transitioning to an automation software platform, you're obliged to do the necessary preparation. That, in turn, isn't just about picking the right product, but also about laying the proper groundwork so that product can be the right fit, able to deliver tangible and immediate results.
Here are three key steps to follow in paving the way for workflow automation. They may not the most obvious ones to spring to mind, but take our word for it: they're critical to eventual success.
1. Do a Needs & Objectives assessment
Your first order of business should be to conduct an internal audit of your operations, so you can identify where workflow automation can provide the most impact.
Neglecting this and making vague assumptions about how it can resolve issues can result in a variety of mistakes. Your automation investment might go against workflows and processes where the need isn't as dire as it is elsewhere, so you're not getting the most bang for your budgetary buck.
Take the opinions of employees, team or department leads, IT and other stakeholders into account as you're conducting this audit. This is also a good way to actually set specific benchmarks you can use to measure a product's performance after you've demo'ed or installed it. How long did it take to execute a specific workflow before and after you've added automation, for example?
The audit will also help you prioritize the pilot processes where you should first put an automation software product to the test to determine if it's a good answer to all your workflow problems, or whether it's only suitable for particular processes or departments.
2. Involve prospective users and evangelists
One of your first concerns when considering a workflow automation system should be how it impacts your workforce, not just the efficiency it delivers. So it's vital you obtain the input and participation of the employees and managers who'll be affected by its adoption.
They'll be able to provide invaluable input into how an automation solution will work in the "real world" of on-the-line operations. Adopting any workflow tool where you haven't solicited the advice of the people who are closest to those processes can be a recipe for trouble.
Beyond that, though, it's important to reach out to others who'll be affected: The constituents or citizens who will, on some level, have to engage with the platform. Anticipating what they want, especially in terms of constitutent-facing touchpoints such as online self-service forms, notifications and more, will help you refine the parameters you use to pick a product.
There are other external parties you'll want to canvass, such as business owners, community groups, local institutions…basically, anyone who will come in regular contact with the processes you're out to automate.
External outreach will also give you useful insight into whether or not automation will affect the frequency of engagement you'll see from the community.  By using an online portal to make it more convenient to make service requests, for example, you may see a higher volume of those requests, or there may be other effects that have a bearing on your future planning.
It's also important to identify and co-opt potential internal evangelists who are going to advocate for workflow automation. That may include internal team members, but it can also extend to other stakeholders and influencers within government. By making them feel they're part of the evaluation process, you're giving them a reason to become enthusiastic contributors in making adoption happen.
3. Design a stringent procurement process
If you've done all of the above, then you're ready to take that input and use it to draft an evaluation and procurement process meant to find the right platform or product to meet your demands.
Lay out crystal-clear criteria for what you're looking for from a workflow automation solution. Pricing, features, ease of adoption and use, scalability and more are all important, and your operations may have very particular requirements of a system. Whatever boxes you need a vendor to check off, don't be shy about including them in any RFP.
Also, set out a clear set of goals and success metrics to put in front of prospective providers, so they know what they're expected to deliver in terms of operational benefits. That can include speed-to-completion for workflows, reduction or elimination of constituent wait times, improvements in satisfaction levels, cost impacts or other measurements.
Always ask if you can obtain a free trial to field test the product before you make a full commitment, too. It doesn't hurt to ask!
Another area where it pays to be diligent? Investigate potential providers in depth. Don't rely on the case studies and testimonials they may feature on their website or in sales materials. Interview their prior customers, consult with your peer groups, and visit online communities where you'll be able to hear somewhat more impartial input about the vendor and the product.
Look in online IT communities, especially, because developers and system architects rarely hesitate to express their experiences using or benchmarking software.
Find out about their post-purchase support, too. Ask present or past users how engaged the vendor stays after the contract has been signed and the product is in place. Ongoing customer support, even for SaaS "plug-and-play" systems, is crucial to integrating and customizing any workflow automation solution so it'll continue to meet your needs both today and tomorrow.
As a further resource on adopting workflow automation for the government/public sector, see this free guide from ThinkSmart.