It's been two years since OMB's Digital Government Strategy and nearly four years since the passage of the Telework Enhancement Act of 2010. Is the Federal government making the grade in mobility and telework or is it barely passing?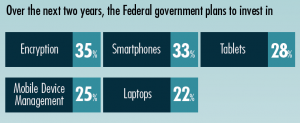 So where are we? Mobile Work Exchange interviewed 154 Federal IT mobility and human capital/telework executives to find out the return on agencies' investments in mobility/telework. Let's get to the bottom of the subject. Are we better or worse off and in what ways? What's our progress to date?
Over the next two years, the Federal government plans to invest in encryption (35%), smartphones (33%), tablets (28%), Mobile Device Management (25%), and laptops (22%).
HR managers estimate that just 40% of agency operations can be maintained during a disaster today. If the Federal government were able to maintain 100% of agency operations during an unscheduled leave/telework day through a telework/ mobility program, they could gain an additional $60M in productivity per day. During the 2013-2014 D.C. snow season, that equates to $300M more than current savings.
By leveraging mobility/telework in conjunction with a real estate reduction plan, Federal agencies could save $15.1B government-wide per year.