Federal agencies have been preparing for the worst in funding cuts since before the new White House administration took the reins in January. The anticipated hiring freeze across the federal government went into effect with an executive order signed shortly after the inauguration – the purpose of which was to allow the new administration time to assess where and how to go about trimming the size and expense of what they see as a bloated workforce. The freeze was lifted in April, only to be immediately replaced with a mandate for agencies to decide for themselves how to achieve the reduction goals.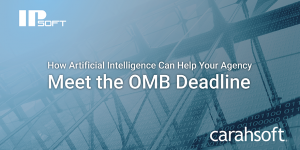 In a 14-page memorandum issued on April 11 of this year, the OMB outlined processes and deadlines for agencies to create their own plans to accomplish the ambitious overhaul. These plans included reducing staff through attrition, restructuring staff positions, reassigning easier tasks to lower-grade employees, and improving efficiencies through closer employee oversight and elimination of poor performers. By June 30, agencies must submit their short-term plans, with final long-term plans due by September of 2018.
Unsurprisingly, deep concerns exist among workers and agency leaders alike about the ramifications of this executive order, which has been called the "most ambitious undertaking in the last 20 years." Workers fear the prospect of job loss – either through restructuring or job performance – while leaders worry about how they will manage to do more with less and provide adequate services to U.S. citizens. Considering agencies are being asked to reduce their staffs by as much as 20 percent or more, these are both valid concerns.
But in this anxiety-ridden shake-up, there may be one unexpected technological advancement that holds great promise to relieve some of the most uncomfortable times during the process – something to pick up the slack for overburdened staff, help them perform their jobs more efficiently and assist agencies in fulfilling their missions on limited resources: artificial intelligence.
Today, AI technology has advanced to the point of being able to function as "virtual contact agents," which possess cognitive abilities sophisticated enough to talk and interact with humans naturally, as well as carry out more mundane tasks. Historically, many have been leery of AI in the workplace, fearing that if the technology was too helpful, it might replace human workers. This isn't necessarily the case in any context. While it might eliminate some entry-level positions, AI will ultimately save employers money, which they can invest in hiring employees who can handle more complex work.  In the case of the government overhaul, AI could certainly fill in some critical gaps now that agencies have to function on both a reduced workforce and budget.
Let's take a look at a real-world example of government agencies that could truly benefit from AI. In 2004, the IRS agency answered 87 percent of calls, and taxpayers were placed on hold for less than three minutes on average. Those are pretty great numbers in the public sector. Unfortunately, by 2015, service levels had fallen off dramatically due to budget cuts, and employees were only able to respond to half of the projected 100 million calls between January and April 15. If the IRS added AI to its arsenal of tech tools to improve efficiencies, it would take a significant portion of the most basic, common questions off the plates of their human employees, enabling them to focus on the more complex issues and urgent phone calls.
Curious about artificial intelligence? Check out our infographic and find out how IPsoft's cognitive agent Amelia will help your agency achieve its mission!