Two main criteria for a user-friendly website are easy navigation and blazing speed – but when it comes to government agencies' websites, increasing expectations from citizens adds a few more elements to the list: Easy access to forms and official documents, information transparency, a clear mission statement and interactive communication via the presence of social media buttons and chat options, to name a few.
The customer-service phenomenon more commonly associated with the private sector, in organizations such as Amazon and Apple, is reaching into the work of federal, state and local governments, who can now access reports with a focus on "identifying, understanding and mastering the customer journey."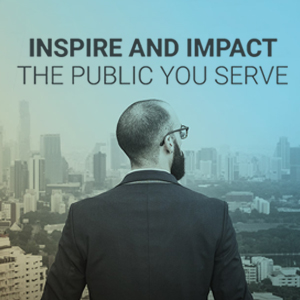 Those reports reveal a similar conclusion: Agencies that systematically put citizens first and clearly demonstrate their mission improve constituent experience while enhancing their ability to meet their goals.
To ensure citizens are left with a lasting positive impact, an agency's website should include the following elements:
Make sure your images pop. When it comes to creating impactful digital experiences, the key image(s) will often be the first impression citizens get of an agency and the agency's mission. The main image should highlight an agency's overarching goal with as few words as possible, and match the overall aesthetic of the site. Including a clear and concise mission statement, no more than 10-15 words, is a great way to draw citizens' attention to an agency's goals in a memorable way that sets the tone for their interaction with the rest of the site.
Provide background. An agency's site should share the story of the agency's mission and work, and, ideally, answer the following questions for their constituents:
What is the agency's inspiration behind the mission?
What challenges or calls to action motivate the agency's work?
How does the agency's mission directly impact citizens as well as the state and/or nation?
Define your measurements for success and track your results. Think about what success means for your constituents' digital experience, and there can be multiple answers. Bounce rates, unique page views, total page views and click rates are all powerful indicators of how citizens responded to the agency's website. Once those metrics are defined, the next step is to track them and regularly report on the results. Ask yourself: Do the citizen engagement indicators show a positive growth curve? Do they indicate a positive experience for citizens? Do these results match the agency's goals? How are these results indicative of a citizen-centered approach?
Ultimately, citizen experience centers on their journey in interacting with an agency's website from start to finish. To improve citizen experience, agencies must look at the citizen's experience through their own eyes, exploring the aforementioned elements over time and ensuring that all parts of the site are in line with the agency's mission while ensuring effortless interaction.
The Adobe Government Creativity Awards, the world's premier creativity and design competition for government professionals, recognizes and celebrates talent and creativity in government and how agencies across the public sector are making an impact through creativity and design.
Check out entries from last year's competition to get a sense of the projects your peers are submitting, and then take this opportunity to have your work showcased and potentially recognized with an award from Adobe in next year's competition. To learn more, visit our competition website.