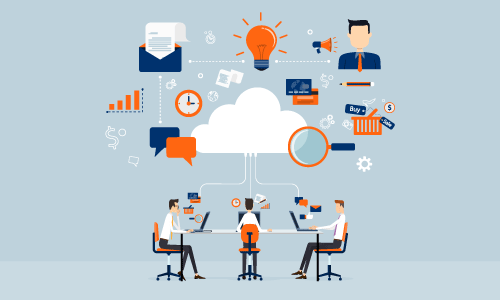 "There's an app for that" has become more than just a catchy commercial message. For government agencies, it's an accurate statement describing how they work around unwieldy old systems. As agencies look to modernize how they deliver services and information to citizens, they are increasingly turning to apps to get the job done.
With apps, agencies relying on legacy systems are able to do things not even imagined by original developers. Many agencies have public-facing apps that provide access to data that has traditionally remained inaccessible within government servers and systems. From White House petitions to open legislation information to listings of flu shot locations, apps are enabling increased government transparency and interaction.  And when utilized internally, apps permit far more collaboration both among and within agencies. However, while these apps are making it easier than ever to access data, obtaining the resources to build those apps can be challenging.
Bridging Legacy IT With Apps
Many government agencies are building apps on internal infrastructure that was not designed to support app development. Developers have to jump through hoops to request space on servers and receive various permissions from IT – a logistical process that holds up the development timeline. Often, even after permission has been granted, the development process still has to follow the traditional waterfall methodology the government has always used for acquiring/developing new technology and services. This waterfall approach is incongruent with modern app development and slows down time-to-market considerably. To fully realize the power of apps to bridge legacy IT and modern expectations for digital transformation, government developers need a more agile system and many are turning to the cloud.
Through the cloud, development teams have access to the compute power they need without having to request permission from IT. This elasticity continues beyond the development phase, supporting the user base when the apps are live. In the cloud, apps can be tested for scale and volatility without posing any risk to the day-to-day network, which enables the rollout of more mature and stable solutions. The downside, however, is that when there is a problem with performance, the use of cloud complicates root-cause analysis.
Supporting App Development in the Cloud
The complex architecture of cloud-native microservices brings together many moving parts, making it difficult to identify the underlying causes of potentially aberrant system behaviors. It is critical to look at causation across containers, virtual machines and data services, as opposed to simple correlation of events and log streams. To marry the flexibility of building and deploying in the cloud with visibility into performance, Pivotal and New Relic teamed up to support the needs of modern app developers.
Pivotal's CloudFoundry is an open source Platform-as-a-Service (PaaS), providing a choice of clouds, developer frameworks and application services, and making it faster and easier to build, test, deploy and scale applications. The New Relic Software Analytics Cloud helps software development, operations and product teams securely monitor their production software without having to build or maintain dedicated infrastructure. Together, the two solutions give development teams the flexibility of cloud with the control and visibility needed to roll out applications.
For government organizations, this means smarter, faster, more elastic and productive app development. Apps can be made available to citizens quicker and with the confidence that any glitches can be quickly identified and remediated. So not only are the apps rolling out fast, they are rolling out right, improving the utility of and confidence in government. The combination of Pivotal and New Relic helps agencies overcome the IT barriers of outdated architectures and enables government to keep up with new trends and user expectations.
This new way of developing and managing apps does require cultural and technological changes; but once the technology is in place to make it happen, the culture will follow based on the ease and success of new development efforts.
Join New Relic and Pivotal on December 13th for a webinar providing more information on how apps in the cloud are changing development and delivery. Check out the New Relic and Pivotal pages for more resources.