It's that time of year again: National Cyber Security Awareness Month, as officially designated by The Department of Homeland Security. The purpose of NCSAM is to serve as a yearly reminder of the importance of building strong protections around the myriad electronic devices and networks we rely upon to survive – and thrive – despite a constantly evolving threat landscape.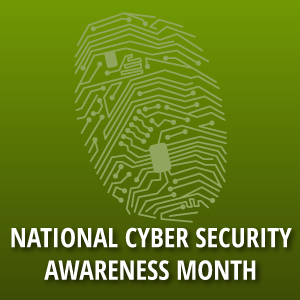 The DHS will highlight a new topic in cybersecurity each week of October, and Carahsoft is committed to supporting the DHS in this vital yearly campaign by publishing a series of blog posts focused exclusively on matters relating to cybersecurity. So, if you enjoyed Monday's post featuring Adobe's tips for keeping your DRM processes secure, visit our TechSetter blog for weekly posts with best practices and strategies from industry experts that will help you stay secure.
The following is a brief description of each of DHS's five weekly cybersecurity themes, along with links to recent Carahsoft resources that will help you stay abreast of the latest trends and news.
Week 1: Simple Steps to Online Safety
Week one (October 2-6) is all about the basics of online safety, the keyword here being "simple." What kind of simple protections can individual consumer put in place to try to thwart a cyberattack? And, just as importantly, what steps should they take in the event that a cyberattack has already occurred? Knowing how to react quickly to an incident can make a difference in the level of damage that ensues.
For the latest trends and simple steps you can take right now to bolster your online safety, see the latest cybersecurity issue of our Innovation In Government report.
Week 2: Cybersecurity in the Workplace is Everyone's Business
During week two, October 9-13, the DHS turns its attention toward organizations, featuring ways that businesses, institutions, nonprofits and government agencies can guard their data and systems from cyber attackers, as well as strengthen their overall cyber resiliency with the help of resources like The National Institute of Standards and Technology Cybersecurity Framework and others.
If you use your smartphone for work purposes, is it secure? See our post with BlackBerry VP Paul Battaglia's "Mobility Checklist" to find out.
Week 3: Today's Prediction for Tomorrow's Internet
Week three's (October 16-20) content will explore the potential costs that could arise from our reliance on smart devices. The sheer volume of personal, sensitive information required for us to run our connected devices and to enjoy the convenience of Smart Cities, digitized records and other perks of the digital age, creates risk. This week will be devoted to examining that risk, and learning ways to manage them.
This is the cybersecurity trend we think will see staggering growth by 2024.
Week 4: The Internet Wants YOU – Consider a Career in Cybersecurity
Multiple reports, including this one by the Center for Cyber Safety and Education, estimate that the U.S. will have a shortage of 1.8 million qualified IT professionals to fill critical cybersecurity jobs by 2020. To address this concerning trend, the DHS will take week four (October 23-27) to highlight the variety of career paths in the field of cybersecurity and offer ideas to help schools and communities generate student interest in pursuing those careers.
To get inspired for this week's content, read up on this advice the private sector is offering to federal agencies on the necessity of cyber innovation.
Week 5: Protecting Critical Infrastructure from Cyber Threats
Concluding the month-long exploration of the most important issues in cybersecurity, and as a prelude to next month's theme – Critical Infrastructure Security and Resilience month (CISR) – the final days of October will pertain to our national infrastructure. The DHS will investigate the vulnerabilities of that infrastructure, which includes systems we count on every day – the electrical grid, financial institutions, transportation, and more.
For a look at the identity and future of cybersecurity, see our recent Innovation In Government report article by Okta.
Join Carahsoft each week as we support Cyber Security Awareness Month: Follow us at @Carahsoft on Twitter for daily tips on how to be more vigilant about cybersecurity.