Today we're introducing a new series here on the Community site – the Community Q&A. For these features, we'll talk to leaders in the Federal IT community to get their thoughts on the technology and market trends affecting the roll out of new solutions across government.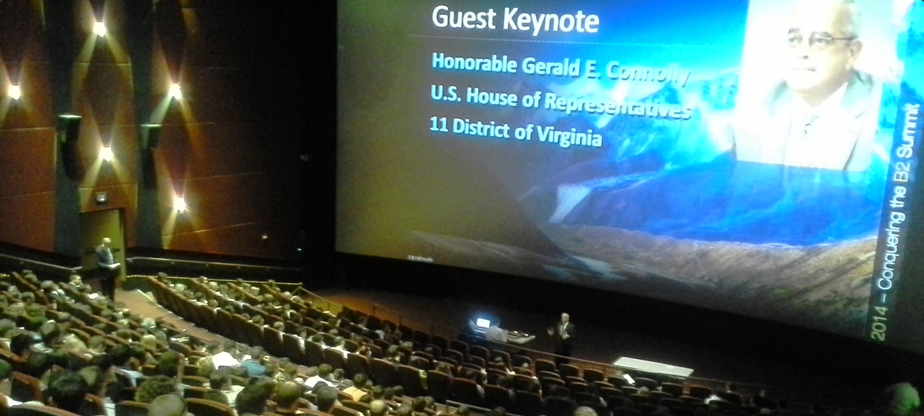 We are honored to have Congressman Gerry Connolly as our first guest. Congressman Connolly is serving his fourth term in the U.S. House of Representatives from Virginia's 11th District, which includes Fairfax County and Prince William County – counties that are home to a large concentration of technology companies. Prior to his 2008 election to Congress, Connolly served 14 years on the Fairfax County Board of Supervisors including five years as Chairman.
Among other appointments, Congressman Connolly is a senior member of the House Committee on Oversight and Government Reform, serving as the Ranking Member of the Subcommittee on Government Operations, and as a member of the Subcommittee on Information Technology.
As the Ranking Democratic Member for the Committee's largest Subcommittee, he is responsible for shaping government-wide policy for a broad range of issues, such as the federal workforce, federal procurement, regulatory reform, federal property, federal and presidential records, information policy, national drug policy, FOIA, the Paperwork Reduction Act, the United States Postal Service, the United States Census Bureau, and the District of Columbia.
---
What is the most interesting trend you are seeing in government IT right now?
Recognition that in the 21st century, effective governance is inextricably linked with how well government leverages technology to better serve its citizens.
For far too long, policymakers and agency administrators have relegated IT management to the proverbial cellar in the agency hierarchy, with lawmakers passing legislation that takes for granted the ability of government to develop and implement complex IT solutions, and agency heads focusing on drafting rules to implement policy to the neglect of more mundane – yet critically important – operational issues.
In many respects, the Federal IT environment can be categorized into two parts: before HealthCare.gov and after HealthCare.gov.
While your readers are likely aware that the IT failures that plagued the development and launch of the Federally Facilitated Marketplace are hardly aberrations in the Federal IT landscape, which is littered with malfunctioning census handheld computers, an electronic border fence that failed to work under border conditions, and billions of defense dollars wasted on barely functioning ERPs; the reality is that in the minds of many agency leaders, IT management would hardly qualify as a mission critical function.
Of course, all of that changed on October 1, 2013. Following the challenging launch, and ultimately, impressive emergency fix of HealthCare.gov spearheaded by the U.S. Chief Technology Officer, I am confident that few, if any, agency leaders continue to devalue and ignore IT management.
Further, a renewed emphasis of the importance of Federal IT management has been strengthened by President Obama identifying "Smarter IT Delivery" as a Priority Goal for the entire Federal Government, and Congress passing the Federal Information Technology Acquisition Reform Act, or FITARA, which represents the most dramatic overhaul of the statutory framework governing Federal IT management since the enactment of the seminal Clinger-Cohen Act of 1996.
What is the most over-hyped trend in government IT?
Well, as a strong supporter of the of the need to dramatically enhance the Federal Government's utilization of advanced commercial cloud computing capabilities, it pains me that in 2015, one must label the entire Federal Cloud Computing Initiative, dating back to the release of the Federal strategy in early 2011, as mostly hype.
Despite former Federal CIO Vivek Kundra's estimate that $20 billion of the Federal Government's $80 billion in annual IT spending was a potential target for migration to cloud computing solutions, when the Government Accountability Office recently examined the implementation of cloud computing solutions at seven select agencies over a two year period, the GAO found that overall, the seven agencies only increased the percentage of their respective IT budgets allocated to cloud services by 1 percent.
In fact, GAO determined that this relatively small percentage increase was partly attributable to these agencies collectively failing to consider cloud computing services for approximately 67 percent of their investments. This is a staggeringly high number of investments and it is in direct contradiction to otherwise excellent policy promulgated by the Office of Management and Budget that calls for cloud solutions to be considered first whenever a secure, reliable, and cost-effective option exists for a given agency IT investment.
Have you seen any early impacts from your FITARA legislation? What do you think will be its biggest impact on Federal IT?
While implementation of the bipartisan Issa-Connolly FITARA remains in the early stages, in the course of conducting implementation oversight as Ranking Member of the Government Operations Subcommittee, I have already observed a fair amount of FITARA planning activity taking place across agencies and at OMB.
In fact, my understanding is that FITARA implementation is already spurring critical conversations between the CIO shop and the CFO/CAO shops at various agencies. Breaking down these silos is vitally important, for our ultimate success in effectively managing Federal IT investments will require all C-suite components to enhance collaboration and communication on a day-to-day basis. Indeed, prompting this coordination is one of the less advertised, but monumentally important goals of FITARA and its enhancement of CIO authorities.
It is difficult to pinpoint one aspect of FITARA that will have the largest impact, and in many respects, that question is inherently subjective to begin with.
Nevertheless, as a prominent former Federal CIO Roger Baker recently noted, there is real potential to end or significantly curtail antiquated waterfall developments across the Federal Government if agency CIOs faithfully implement FITARA's statutory requirements that the agency CIO certify IT investments are adequately implementing incremental development, and review and approve all agency IT contracts.
For example, while I am aware of some gripes that requiring agency CIOs to review and approve all agency IT contracts is overly burdensome, not only do I believe that strengthening accountability will more than pay off in the long-run, but I am also disappointed that not all CIOs appear to recognize what Roger Baker did, namely that any agency CIO can utilize these authorities to set and shape enterprise-wide policy. Fore example, if an agency head approved the policy, the agency CIO could notify all components that he or she would no longer approve any IT contract that does not utilize incremental development with concrete deliverables set at intervals of no longer than six months.
If we saw widespread adoption of incremental development across the Federal Government – which it should be noted has technically bee the approved, and even encouraged, policy and practice since the enactment of Section 5202 of the seminal Clinger-Cohen Act and insertion of section 39.103 into the FAR – then that would truly be game changing.
What accomplishment/event over the past year are you most proud of? Why?
I am proud of serving as a leading member of a bipartisan and bicameral coalition that successfully authored and passed FITARA, the first major reform of the laws that govern how the Federal Government acquires and manages more than $82 billion worth of annual information technology (IT) investments in nearly two decades.
FITARA could achieve billions of dollars in cost-savings and cost-avoidances for taxpayers by eliminating wasteful and duplicative systems across the Federal Government. For example, the Office of Management and Budget estimates that FITARA's provision requiring portfolio management best practices alone could save $2.5 billion through fiscal year 2015 and potentially reap billions of dollars more in savings over future years.
In addition, FITARA will establish clear lines of accountability moving forward to ensure that Congress can hold agency heads and CIOs accountable for results, and ideally, spur agencies to adopt effective management practices that will prevent, or mitigate, IT investment failures.
---
Thanks to Congressman Connolly for all he does to support the federal IT community for taking the time to share his thoughts with us.