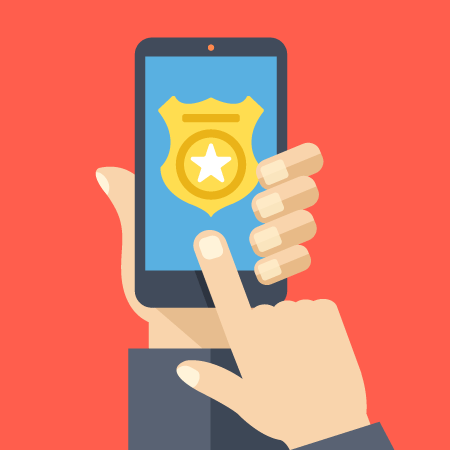 Just as we should have an emergency preparedness kit at home, every government organization should have its own toolkit that includes contingency plans, contact information, system access codes and more. In that kit, a good communication plan is perhaps the key tool in any crisis. In the event of an emergency, people need to be able to access data and share it with other responders. Similarly, crisis leaders need to have the ability to effectively communicate information to employees and other parties on a need-to-know basis. But how can agencies ensure streamlined communication when critical infrastructure is down and necessary contacts are on different networks?
AtHoc, a division of Blackberry, helps agencies communicate in real time with their people through numerous media, including email, text and call. More than just push notifications, the technology allows organizations to create their own permission-based network to establish interoperable communication with other organizations in their community. The solution helps users to:
Alert: Notify anyone, anywhere, on any device, including a mass notification option.
Collect: Gather critical information to achieve situational awareness.
Account: Get real-time visibility into personnel safety and status.
Connect: Communicate and collaborate with other organizations.
AtHoc extends an organization's communication network to inform decisions and drive action as part of a holistic emergency-preparedness strategy – which includes day-to-day use of social media, drills, contingency plans, etc. Many agencies and departments are already leveraging AtHoc to extend and enhance their crisis-communication strategies. From the DoD to civilian agencies, AtHoc is being used at all levels of government to ensure that critical information is delivered when it's needed most.
Permission-Based Communications in the Pentagon
Over 23,000 military and civilian employees and thousands more visitors and support personnel are housed within the Pentagon, making it much like a small city. And just like in a city, two people sitting next to each other in the Pentagon may be on entirely different networks. Within such a vast and complex network of communications channels, any number of potential obstacles could arise to hamper or shut down important communications in a crisis situation.
The Pentagon Force Protection Agency (PFPA), which was created in direct response to the September 11, 2001, attacks on the Pentagon, is tasked with protecting the occupants of the Pentagon buildings. The ability to create a unified communications system that reaches the Pentagon's technologically and physically diverse network is challenging; but as 9/11 demonstrated, the need to do so is absolutely critical. The PFPA chose AtHoc's crisis communications platform for their emergency response toolkit because it removed communication barriers across organizations, was simple to install and allowed PFPA's existing infrastructure to remain intact.
For the PFPA, AtHoc acts as a more secure version of LinkedIn. This solution is permission-based, and invitations to the community are secure and controlled. AtHoc allows the PFPA to notify, warn, communicate and collaborate with defense agencies through a streamlined workflow, keeping crisis communications in check and the huge network of civilians and military employees safe.
Better Alerting Strategies for the U.S. Coastguard
The U.S. Coast Guard (USCG), one of the largest agencies within the Department of Homeland Security, used AtHoc's emergency mass notification system to create the next generation of the USCG's Alert and Warning System. The USCG needed a communications solution that was scalable, enabled alert distribution across countless communications channels and devices, and was secure, private and protected. By integrating with USCG's internet portal, AtHoc deploys within a secure, cloud-based architecture from which alerts can be launched and managed simultaneously via multiple devices, reaching all 100 of USCG locations. AtHoc proved its value during the Deepwater Horizon oil spill, when it was used to alert citizens and coordinate operations.
As a single enterprise solution, AtHoc is able to meet all of USCG's needs while securing personal information and staying in compliance with DIACAP and USCG Information Assurance requirements. With AtHoc in USCG, rapid and consistent emergency notifications reach across the country to improve and expedite response and recovery.
Mass Communications at the Department of Veterans Affairs
The Department of Veterans Affairs (VA) has 171 medical centers, more than 800 outpatient, community and outreach clinics, and is the largest healthcare provider in the US. Due to its huge, interconnected network, seamless communication – especially in the event of a crisis – is no easy feat for the VA. To combat these difficulties, VA deployed AtHoc's emergency mass notification system and created the VA Personnel Accountability System (VA-PAS). The VA-PAS is an IP-based emergency mass-communications and accountability solution that meets the VA's emergency alerting, critical communications and personnel accountability needs. Moreover, it provides nationwide support via a single centralized location. In addition to delivering mass communications with ease, VA-PAS is able to run tests and practice emergency scenarios within the healthcare community. The solution is also able to target messages to specific locations, groups or individuals. With VA-PAS, the VA can send out mass notifications in real-time via multiple channels and devices, protect hundreds of thousands of VA employees and patients, and deliver reliable, continuous operations, even in the event of an emergency
The Power of AtHoc
AtHoc gives organizations the ability to make better-informed decisions to protect people and entire communities. Through alerting, permission-based communications and mass-communication capabilities, AtHoc is helping government agencies to create an environment of better situational awareness, respond faster to crises and improve the safety of our nation.
To learn more about AtHoc and how it can improve emergency preparedness and response in your agency, request a demo and check out these case studies: