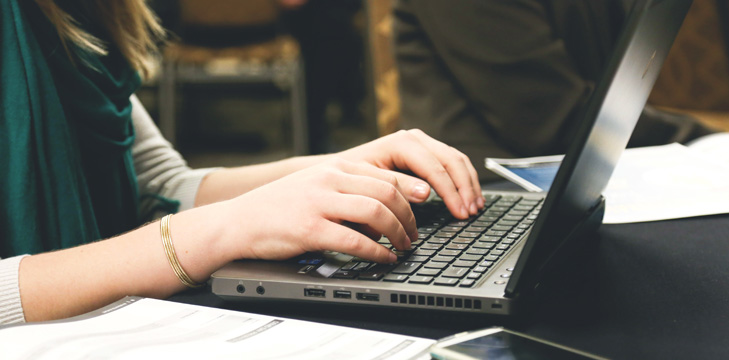 Today, nearly 80% of companies leverage eLearning to train their workforce, and with a wide variety of tools on the market – nearly double what was available five years ago – it's becoming more and more challenging for instructors to choose the right tools for their audience. To help educators and instructional designers across industries stay ahead of today's rapidly evolving eLearning landscape, Adobe and Carahsoft held an Adobe eLearning Conference in Washington, DC this May. The conference began with eLearning evangelists Allen Partridge and Jane Bozarth setting the stage for the rest of the day by explaining the present landscape of learning and how digital technologies are changing how we learn, and in response, how we educate. Throughout the rest of the summit, major trends emerged around developing video, encouraging presenter creativity, and the importance of implementing a mLearning (mobile learning) strategy.
Engaging Learners with Video
In 2016, video is predicted to be used in 98% of eLearning activities, which should come as no surprise since video is one of the most effective media types in eLearning. Video production consultant Steve Haskin shared tips on how to shoot video quickly, effectively, and inexpensively. Haskin explained that video is one of the most accessible tools that educators can use. Starting a video production studio used to cost around $1.5 million, but thanks to modern technology, the price has shrunk to the cost of a smartphone. In short, users now have the tools they need to shoot their own, professional-quality video in the palms of their hands.
Haskin emphasized the advantages and importance of incorporating videos into storytelling to engage and educate learners. He discussed the tools and techniques necessary for filming that will encourage learning and keep them coming back for more. Haskin also touched on the different types of editing software, from the simplest, to the most efficient, to the most professional, like Adobe Premiere, as well as technologies that allow users to be better storytellers. According to Haskin, High Dynamic Range (HDR) is the future of video and will be very important in eLearning. While the dynamic range of normal video is about 12 to 1, HDR allows for dynamic ranges of between 25 and 50 to 1, meaning that the final product is much closer to what the human eye sees. The availability of video and the increasing level of quality is making video eLearning more than just "talking heads;" it's providing educators and students alike a new way to engage and learn with one another.
The Increasing Importance of Creativity
Students of the digital age have shorter attention spans than their predecessors, which is why it's crucial to keep them engaged with high-quality images, sound, and animations. But how are content developers simplifying their workflows and integrating multiple design elements into one presentation? The answer is Adobe Creative Cloud (CC) for eLearning. Creative Cloud, which gives users access to the latest creative applications from around the world, can also aid in eLearning. And as today's learners continue to demand engaging, smart features in their content, educators must push forward in developing gamified, creative content.
By applying the elements of the Adobe Creative Cloud to various eLearning scenarios – from gamification to cartoon animations that interact with learners – educators are better enabled to reach new levels of creativity in their content.
The Advent of Mobile
74% of people use mobile devices for eLearning, but creating curricula for learners across channels can be time consuming and difficult. With the new Adobe Captivate Draft, course creators are able to quickly draft storyboards using only a finger and an iPad, and eLearning experts expect that it will soon be expanded to other platforms. Sarah Gilbert, Director of the Atlanta-based Informatics Academy, demonstrated how to use Adobe Captivate Draft to storyboard a project and then leverage that work within development, all using the same application. Designing and building eLearning courses has traditionally been a two-step process: designing the project in a document or PowerPoint during the storyboard phase and then recreating that very same project in Adobe Captivate during the development phase. With Adobe Captivate Draft, users can now complete both steps in the same place. The tool allows users to design and develop projects more efficiently through a more integrated workflow. With Adobe Captivate Draft, educators can design their content quickly and efficiently and users can learn on-the-go with educational materials designed to fit any screen size.
eLearning is changing the way businesses train, work, collaborate, and educate their customers and employees; but to keep pace with students, content developers must always be on the cutting edge of new development. Today's learners expect high-quality, engaging presentations, optimized for their busy schedules, available across devices, and that provide the educational materials they want and need in new and interesting ways. Outside of standard academics, corporations should also recognize the value of training their employees. According to Deepak Sawant, Senior Product Manager at Adobe, while educational and skill-building programs are usually the first things to be cut during a budget crunch, organizations that have invested in training during recessions emerged from these crises better than those that did not. Training and education are key to growth, but a key challenge that content creators and teachers have is to continuously innovate new methods that keep learners interested and collaborating.
Learn more about how the landscape of eLearning is changing by checking out the live recordings of the event's opening keynote and the Learning Management Systems track. And for a demo of any of the products listed above, click here.