As the landscape of defense technology across the United States Armed Forces continues to advance and transform, the military must also evolve and adapt with it. At Sea-Air-Space 2023, the Navy League's Global Maritime Exposition, key leadership from the U.S. defense industry and government technology experts came together for educational and collaborative sessions across a variety of topics. A record number of attendees gathered for the three-day conference where many vendors including Carahsoft and 45 of its partners demonstrated their technology solutions to meet military needs. Fed Gov Today joined Carahsoft on the show floor to speak with military thought leaders on staffing, cybersecurity and more.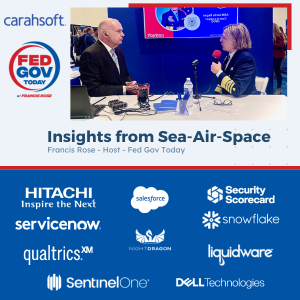 Sea Service chiefs attending the conference noted that currently, maintaining and developing the workforce is a high priority for the military as it emphasizes the role of people as resources. Defense agencies are looking to engage young, talented individuals interested in serving the armed forces.
"Whenever you see the defense budget start to go down…a lot of times you'll see training and education reduced," Carahsoft's Program Executive of Navy and Defense Strategy, Mike McCalip, said. "What you end up with is a workforce that can be five or 10 years behind in technology." To mitigate this, McCalip sees this as an opportunity for industry vendors to "help [the Navy] to educate and keep their workforce on the tip of the spear when it comes to technology."
Another important concept discussed at Sea-Air-Space was the Department of Defense's shift to ever evolving Zero Trust. Throughout the conference, Sea Service chiefs and tech vendors fielded many questions and conversations surrounding cybersecurity's role within defense strategy. Military leaders and vendors shared an eagerness to collaborate and explore opportunities for growth together in the future.
Check out the rest of my industry insights and highlights from the event floor at Sea-Air-Space 2023 in my full blog at FedGovToday.com.