Integrating DEIA Into the Larger CX Picture
The Whitehouse Executive Order on Diversity, Equity, Inclusion and Accessibility (DEIA) in the Federal Workforce promotes standards that can be applied to improving Government customer experience (CX). These include strengthening the ability to recruit, hire, develop, promote and retain the nation's talent, removing barriers to equal opportunity and creating a space where all employees and customers are treated with dignity and respect. The standards offer Federal and State and Local Government agencies the opportunity to move toward equitable service delivery.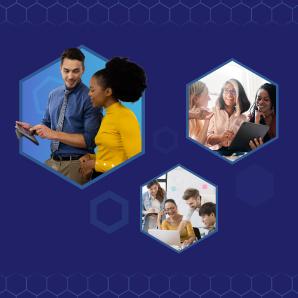 Developing a DEIA strategy involves a multitude of moving pieces like analyzing data, enforcing requirements, measuring effectiveness and ensuring progress. All of these areas culminate in sustainable cultural intelligence for organizations. Starting the conversation around DEIA in the context of CX begins with the on-going theme of communication rooted in trust—especially employee and customer trust in the Government. During Carahsoft's 2023 Customer Experience and Engagement Summit, panelists examined how their organizations are creating more trusting, inclusive and resilient workplace environments which translates to improved services for customers.
A Focus on Human-Centered Design
In the realm of CX, trust is one of the most important aspects of customer, employee and leadership interactions. One panelist found that previously coming from a background in the user experience (UX) transformation space, all human-centered design exclusively existed within UX. In furthering their understanding of the broader CX spectrum, they discovered that UX is only a small part of the CX journey. While UX refers to the way users interact with an organization's specific products, CX is how users view an organization's brand and experiences with the business. The critical missing component to elevate CX is communication and transparency to build trust. Much of the progress made through DEIA initiatives aims to rebuild trust with undervalued communities so they feel secure receiving assistance both personally and virtually.
To truly develop more equitable service delivery models, organizations must be able to manage workplace tension by building both internal and external progress. For example, the National Science Foundation (NSF) has worked to provide tools for success in both areas through various touchpoints. Externally, NSF teams launched a redesign of the agency's website that allowed them to collect information from several demographic communities. In doing so, the NSF was able to redesign language inputs and outputs to better serve their website visitors. Internally, the NSF has implemented a call-listening program that analyzes empathy, psychological safety and compassion to protect not only customers, but employees as well. The NSF has also designed a DEIA maturity model, which helps to measure the efficacy of DEIA capabilities, identify critical barriers and benefits to employee advancement and operationalize a sense of inclusion and belonging across the foundation.
Moderating Workforce Development for the Future
Recruiting, hiring and retaining employees is successful when an organization considers a wide range of talent representation. Also, being data-informed is critical for an agency's mission. Collecting data via methods like staff surveys to identify members' interests and strengths as well as understand where that talent can best serve the agency is imperative for progress. Baking this into daily processes by working with human resources counterparts ensures the DNA of the organization is varied. Ultimately, diversity within CX talent can positively set one organization and the way its employees interact with customers apart from another.
Read the previous blog and check back soon to read the rest of Carahsoft's insights from CX industry thought leaders at the summit.
To learn more about the latest in the CX landscape and how Carahsoft's industry-leading partners can support your Customer Experience initiatives, please visit our resource hub to access all on demand recordings and information from the 2023 Government Customer Experience and Engagement Summit.