In a report to Congressional Committees from July 2016, the U.S. Government Accountability Office found that the Justice Department saved $9.2 million in savings through one policy requiring employees to book the lowest airfares. When a single policy can impact an entire budget, one innovation in mobility promises to revolutionize how state, local and federal government agencies manage their spending. Traditional expense processing involves tracking multiple transactions, logging information on physical copies, and submitting papers to accounting departments where the forms are manually keyed into several databases. Every step in the process entails tedious repetition, and errors inevitably pass unnoticed.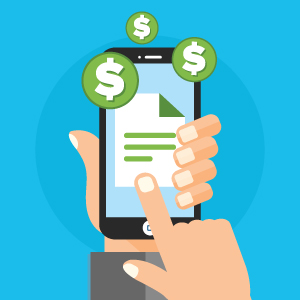 Instead of forcing employees to adhere to antiquated systems, agencies are now automating their tools and opting for solutions designed for the user. These innovations are made possible by open platforms that allow customized add-ons and easy incorporation into legacy environments. Expense reports often involve small-dollar, high-frequency transactions that are easy to forget and difficult to track. With the increasingly widespread use of smart devices throughout the government and proven cloud-based solutions available to manage spend on-the-go, employees can now manage the entire expense request, capture, and approval process from their mobile devices, freeing them from their desks and resulting in a variety of benefits for the agency.
Reducing Fraud
According to a 2014 report from Oversight Systems, an overwhelming majority of expense report fraud – 82 percent – is committed by just five percent of employees. The same report found that purchases outside of airfare, hotels and car rentals were the hardest to control. Clearly, higher visibility is needed to allow agencies to track smaller purchases that provide fraudulent employees with a low-profile means to circumvent policy. Mobile expense-reporting solutions can cache digital paper trails and make it much easier for auditors to verify reports.
Enforcing Policy
Mistakes can be just as costly as intentional fraud. The same report found that 20 percent of traveling employees had at least one purchase in their reports that did not comply with company policy. Equally troubling, 10 percent had one duplicate expense. Making your spend management system available from a mobile device addresses both inaccuracy and noncompliance. With instant access to apps that tie in travel and expenses, employees can log their purchases in real time and snap photos of their receipts, significantly reducing the odds of lost receipts or forgotten expenses.
In addition, mobile solutions can immediately notify employees if their requests violate company policy prior to reimbursement. Any noncompliant requests can be flagged for review by an auditor, allowing accounting departments to focus on their primary roles instead of dedicating resources to sorting, filing and processing physical paperwork.
Driving the Mission
Beyond policy compliance and cost-savings, mobile solutions offer opportunities for efficiency that traditional Enterprise Resource Planning systems never could. Open platforms enable agencies and developers to incorporate apps that meet security standards directly into their reporting systems. When an employee books a flight on the United App, the travel destination, ETA, cost, and a series of other useful bits of information can be directly imported into an integrated travel and expense app, reducing labor time and human error simultaneously.
While you're freeing employees from their desks, you should consider what else you can achieve through a Software-as-a-Service (SaaS) solution. Government agencies are avoiding significant hosting costs of on-premise solutions along with the hassle and required time maintaining such systems require. Leading SaaS solution providers continually improve software to better serve their customers and their users while protecting against the latest threats and, unlike on-premise providers, do not require costly business interruptions to maintain. Today, this is a commonly accepted means of operating in a commercial business and if government agencies hope to keep up, they must aspire to this same level of agility. In a period of budget constraints and limited resources, implementing proven IT solutions to speed processes and avoid costs must become a priority. Mobile solutions offer a way for departments to get ahead of sweeping mandates.
Learn more about mobile travel and spend management mobile SaaS solutions and how you can accelerate, compliance, transparency, user satisfaction and the analytics your agency needs to enforce government policies. Take a peek at what you can accomplish with a trusted, secure SaaS solution from Concur.