Transition to Remote Work
It goes without saying that the switch to a predominantly "work from home" scenario has been quite the transition for most and has required much adaptation on both the human and technologic fronts. Many organizations had to scramble to set up the proper infrastructure and distribute the proper hardware to support a remote work environment. Depending on existing technology/structures and available resources, some transitions proved more challenging, while others ran more smoothly. However, even with the digital piece in place, a question remains: how can we keep the human experience intact in an increasingly tech-dominated world?
Factoring in the Human Element
Although we are living in a digital world, not all experiences are created equal, and it's important to keep the audience in mind when creating content and delivering within any virtual scenario. While we have moved past the initial brunt of the ongoing global pandemic, according to the most recent Facts & Factors research study, "The Global E-learning market was projected at USD 144 Billion in 2019, is estimated to reach USD 374.3 Billion by 2026, and is predicted to increase at a CAGR of 14.6 % through 2026." As such, trends showing an increased and continued adoption of eLearning overall are strengthened by ongoing remote work necessitated by the pandemic. eLearning has become the norm, and there are so many ways to deliver in that sphere, making it easier for all learning styles to be accommodated and include something for everyone. This can be in the form of a virtual classroom/web conferencing setting, self-paced content or quizzing created through content authoring tools, online activities, or even gamification and social learning. At the end of the day, it's important to give people a chance to engage in a way that resonates with them.
Gamification for Incentivization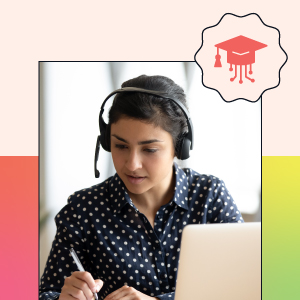 One of the elements that can be incorporated to provide a more expansive digital learning experience is gamification, where users earn points for completing courses or activities. Gamification can foster friendly competition and incentivize learners to engage with available content. Users can see point values increase in real time and track their achievements, giving them bursts of encouragement from seeing their work move them up the virtual scoreboard. Normally, gamification systems are executed through a Learning Management System, used to deliver and track training. Settings can be adjusted accordingly to account for a range of content, activities, and point values.
Social Learning and Non-Traditional Engagement
A large part of training across the government, corporate, and education sphere often involves compliance training and requires concrete proof of completion from an assessment component. While these aspects of eLearning are necessary and important, they can also be complemented by adding more community-based engagement features, such as social learning, which usually entails a forum or social "feed" for users to post, comment, poll, and discuss in custom groups, small or large scope. The concept of social learning adds a friendly side to formal training and offers up another way for users to consume and process content alongside peers. With much of our day-to-day, in-person socialization still restricted within many work environments, options that mimic a more community-like feel have become crucial. Learners who are more engaged and who feel more welcomed in their respective digital environments are more likely to return.
Factors to Consider When Building an eLearning Environment
A few factors to consider when launching a more engaging eLearning experience include scope, training content, and goals, as well as time constraints and accessibility. In terms of the technology involved, usually a content authoring tool, whether it be PDFs, videos, or interactive content, is paired with a Learning Management System to deliver and track training for the full scope. Content can be tailored to appeal to various learning types and be delivered across multiple devices for ease of access. The "one size fits all" approach has shifted to pave the way for more customized education that plays an important role in increasing learn ability.
For more information, view the Adobe webinar series: 8-Part Adobe Digital Learning Webinar Series: Redefine Digital Learning Experiences.
Facts & Factors, "Global E-learning Market Expected to Reach USD 374.3 Billion by 2026": https://www.fnfresearch.com/e-learning-market