Accessibility and Compliance within the Public Sector
When designing creative projects for Government entities, there are many angles that need to be taken into consideration to ensure that your creative work can be accessed and distributed throughout as many channels as possible, with as few restrictions as possible. Depending on the type of work, this can range from closed captioning on promotional videos, to accessibility on 508 compliant documents. In the proper context, ensuring that your work is compatible for distribution can be even more important than the project itself. Focus points such as readability, interactivity, tracking, and platform distribution are paramount to making your work excel in a regulated government space. Now, let's discuss some of the best file types for different types of projects.
Working with Portable Document Formats
Let's start with one of the most adaptable types of multipage documents: the PDF (Portable Document Format). When creating accessible work documents, the PDF is by far one of the easiest documents to create. However, in terms of design there are many options to consider. PDF documents can be modified and converted to the EPUB format, which is essentially a document type that turns a standard digital file into a variant that is more interactive. EPUB files allow digital documents to excel and provides freedom to include videos, animated shortcuts and buttons, integrated website content and even audio tracks. In terms of expression and design freedom, an interactive EPUB can be very appealing. However, many government bodies require documents to be properly accessibly (i.e., 508 compliant). This directly refers to the document's content being appropriately tagged, determine an assigned reading order, as well as assigning figures for the appropriate alternative tags. PDFs still excel in being able to cover all the categories in question, however sometimes a straightforward design and filetype can be the better choice depending on the audience and distribution.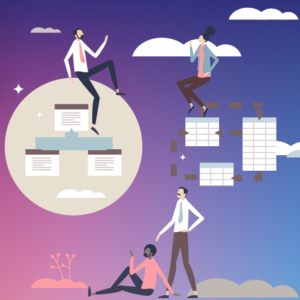 Color Modes and File Types for Print and Digital Media
Visual content can be a complicated space for a new designer. Working with images may seem relatively straightforward but there are many variations of image file types and settings to consider. A classic choice is the decision between color profiles for print: RGB and CMYK. RGB is a color profile that primarily provides a higher density of contrast when mixed with light, while being viewed on a monitor or device. CMYK provides a wider range of color distribution making it the better choice for any color document being sent to print. Therefore, image quality and color profile needs to be considered first and foremost when design content. Depending on the situation images should primarily be used in the PNG format as opposed to JPEG. PNG image formatting allows content to have transparent backgrounds, which allows for more creative freedom. PNG files are also lossless in terms of reformatting, meaning they will keep their resolution over multiple saves, unlike JPEG files. This simply means that over multiple instances your images will not slowly become more and more pixelated, which is something to look out for with JPEG. WEBP files are an excellent type to use for images hosted in an online environment. While SVG files allow for use of vector images, which can scale to an infinite degree. Understanding these options will allow you to take your work to the next level in terms of productivity and compatibility.
Make Your Vision Move with Video Formats
And finally, we cannot discuss efficient file types without venturing into video production. Video files are truly where content and compatibility can become very complicated, since they are usually both large and contain audio. Fortunately, there are many options available to creators in terms of rendering out video projects and your options will vary based on what platform you will be sharing the project on. Video resolution, framerate, and size aside should all be considered when setting up a final render. In terms of output for IOS devices, the MOV video format is still one of the best options and works well with Apple's QuickTime player. WMV is the file extension for Windows Media Video and can be thought of as the alternative platform option. MP4 video files are a standard and can encompass many different settings and are still a standard adaptable type for your projects in case its final distribution method is unknown. However, regarding video output on the web, you should consider the H264 file format. The H264 moniker refers to the compression used during the rendering stage and is popular for high-definition video. This is the file format used for most HDTV, HD DVD, and Blu-Ray. Please note that while the H264 compression can be used, it is still generally referring to an MP4 video file.
Our access to all these options is truly what allows creatives to curate quality projects for the government space. We have all the tools necessary to succeed, but we need to understand the breadth of our options in terms of what we can output. I recommend reading up on file options that are relevant to your own workflows as the knowledge will only allow you to create better and more stable content for distribution in the future.
Additionally, if you or anyone you know would like to dive deeper into the Adobe creative applications and how they can be applied to current government projects, watch the on-demand recordings from our 8-part webinar series, Reimagine Creativity through Optimized Digital Collaboration. Explore how Adobe is inspiring government agencies nationwide to elevate their use of creativity and design through state of the art digital solutions. Our product specialists take a deep dive into the newest tools, features, and upgrades, in efforts to increase productivity and ramp up your existing creative workspace.