With the relationship between our government and its citizens shifting rapidly due to growth in social media use by both agencies and the constituents they serve, government agencies must leverage social tools to maximize service and efficiency.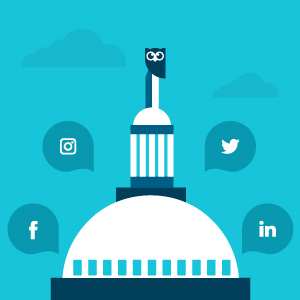 Citizen participation and engagement have been transformed through social media, because the conversation between government and citizens is no longer one way. Before social media, citizens only had a voice at the polling booths. Today, the conversation is held in the open, and it's transparent – 67% of Americans are active on social media, as are 85% of local government agencies, Hootsuite's recent whitepaper found.
In that same whitepaper, Hootsuite identified the following benefits that make social media worth the investment for government agencies:
Social media reduces the cost of communication. Federal agencies spend $1.5 billion on public relations alone each year to get their message out there to their citizens – yet, 42 percent of U.S. adults say they get their news from Facebook while only 20 percent get their news from traditional outlets.
Social media makes it easier for agencies to share information during a crisis. The nature of social media is instant, and instant communication has the power to nullify rumors before they create hysteria.
By creating pre-approved content that can be shared in times of crisis, governments can provide instant updates to citizens. They can also use social media analytics to monitor social conversations about the crisis to provide information to first responders or address any false information before rumors spread.
Social media is a pre-established channel for direct communication. Increasingly, people are turning to social media channels, rather than government websites, when they have an inquiry, request or complaint. According to Accenture, 40 percent of U.S. citizens placed priority on integration of government digital services with social media in 2017. This was double the 20 percent who said so in their 2014 survey.
Further, 68 percent of agencies in a recent municipal 311 survey said they take service requests via social media, a paper published by the Ash Center at Harvard Kennedy School revealed. 
Established tools are out there. Even though the benefits of social media are evident for government agencies, tools are underutilized: While 85 percent of local government agencies are using social media, only 63 percent of these have an enterprise-wide social media strategy. When agencies apply organization-wide social strategies using scheduling tools, messaging across platforms avoids becoming inconsistent and disorganized – keeping constituents from becoming confused or mislead.
By using an established tool that has scheduling and social monitoring capabilities in one place, social media accounts are less prone to misuse from multiple agency employees receiving ad hoc access to disparate systems. To avoid these pitfalls and decrease risk, while still gaining the benefits of social media, agencies have to take a holistic approach to their social media strategies.
Social media can be a powerful tool for government if agencies take a strategic approach to managing their entire organization's social presence, specifically by developing a centrally managed social media strategy that empowers personnel across the agency to interact with citizens as they need to. When agencies do this, they directly enhance the citizen experience and create a transparent, social government.
Across our government, social media has become an essential component of information delivery, communications and service strategies – to explore how agencies can achieve those three objectives, as well as boost their customer service experience as a whole, see Govloop's new guide: Defining Your Role in Government Customer Service.