The push to modernize IT in government agencies is largely focused on upgrading legacy systems that are built on clunky, obsolete hardware and software platforms. According to the State of Service Desk report, 52% of service desk professionals aren't satisfied with their current service desk solution.* It makes sense for agencies to replace these systems with the latest technologies – but that's only one piece of the puzzle. The efficiencies and cost savings realized by upgrading IT systems can disappear quickly if accompanying support and service operations remain disjointed or siloed.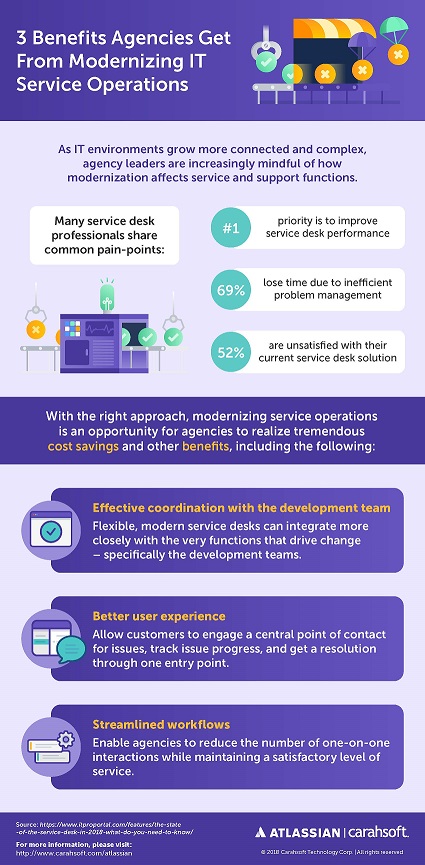 As IT environments grow more connected and more complex, agency leaders are increasingly mindful of how modernization affects service and support functions. They recognize that successfully implementing new technology depends on robust support workflows. The two go hand-in-hand, and both must align closely with organizational goals.
In fact, with the right approach, modernizing service operations is an opportunity for agencies to realize tremendous cost savings and other benefits, including the following.
Streamlined Workflows
Approximately 69% of service desk professionals spend the majority of their time sorting out issues due to heavy workload and inefficient problem management processes.* Modernized service desks offer agencies multiple ways to streamline service workflows in order to reduce the number of one-on-one interactions while maintaining a satisfactory level of service.
For example, bots informed by machine learning can cross-reference log files with knowledge-based articles to automate answers to one-on-one questions. When a user describes the problem, the bot will direct the user to community pages or self-service forums which offer relevant answers.
Automation is also used to make service operations more efficient by scanning for keywords in the request fields, then using this information to route the request to the best service agent. Ultimately, the faster the request gets to the right person, the quicker the issue can be resolved.
Effective Coordination with Development Team
Because technology changes rapidly, IT service and support operations have to be flexible. Modernized service desks make it possible for support operations to integrate more closely with the very functions that drive change – specifically the development teams. As new applications are created and new features rolled out, a modernized service desk is flexible enough to anticipate and address the service issues that often follow – including bug reports, technical support, maintenance and so on.
At its best, coordination between service and development creates feedback loops that drive innovation. Too often, development teams will release a new feature, and fragmented service departments will fail to collate and communicate comprehensive feedback. A modernized service desk allows development teams to get rich information about the effects of new applications and features on support operations. They're able to see what problems users report and what issues continue to surface, along with how much downtime a bug causes.
Better User Experience
A goal of modernized service operations is to improve the delivery of services to internal and external customers. In many current operations, customers have different service contacts for different issues. Modernized service desk technology solutions make it possible for customers to engage a centralized point of contact for all their issues. They can make the request, track its progress and get a resolution through one entry point.
For more information about modernizing service and support solutions at government agencies, visit carahsoft.com/vendors/atlassian.
Source: