FNN Expert Edition: AI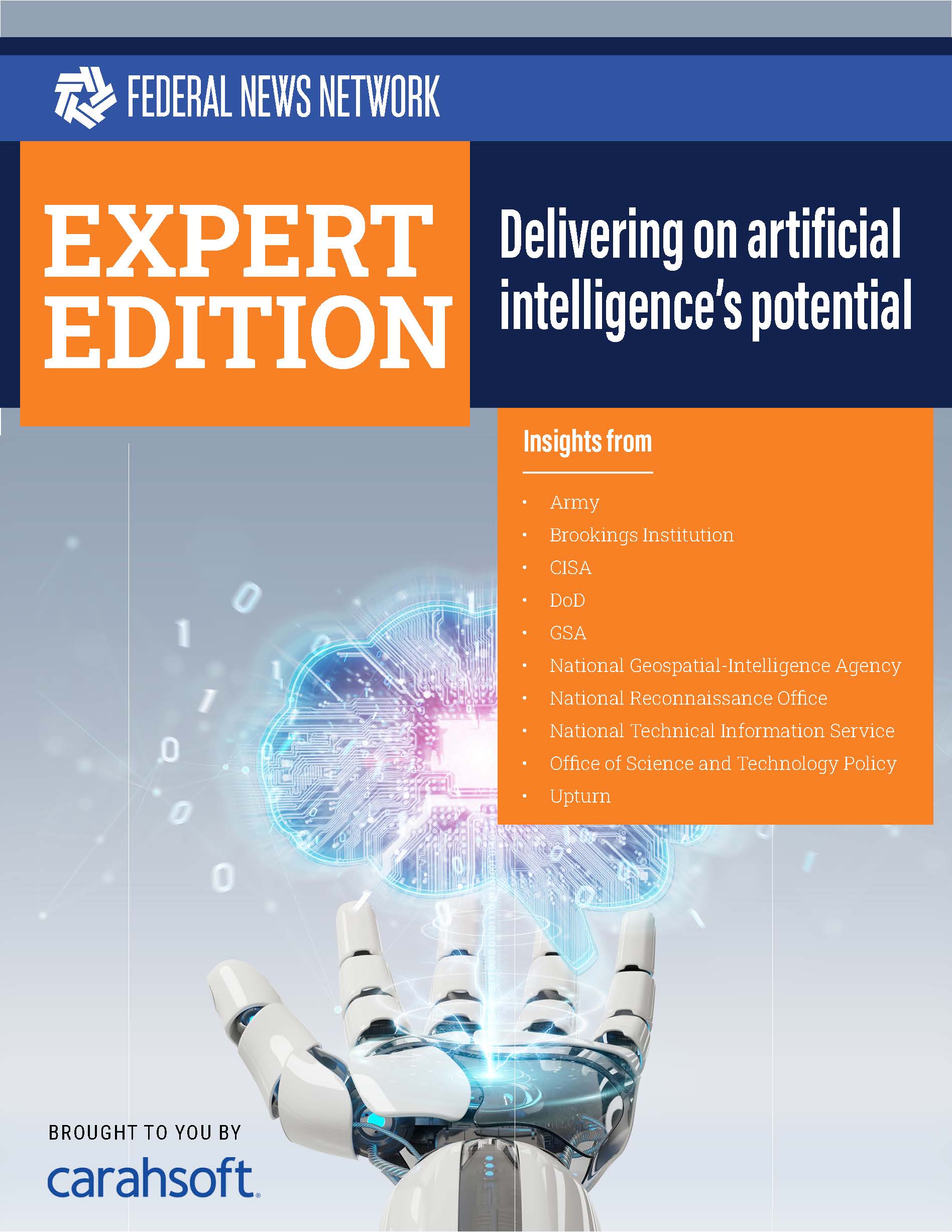 In this ebook, we share strategies and tactics for accelerating and maturing federal AI/ML initiatives, along with details about implementing new technology tools, establishing appropriate guardrails and developing metrics for success. Featuring insights from government agencies, including:
Agencies should make internal workforce investments to improve AI implementation, experts say
White House aims to accelerate government AI use through 'bill of rights'
GSA, CISA turn to AI tools, standards to help secure federal supply chains
Army pilots test AI to streamline selection boards
NRO, NGA expand industry partnerships to access more data, apply AI
Can AI let your teams use their brains better?
That headline is not meant to be demeaning. It's a serious question, and one for which the answer appears to be a resounding "yes" — from both federal technology leaders and industry developers of artificial intelligence and machine learning technologies.
Most people agree that one of AI/ML's greatest potential benefits in government is that it can free data scientists and subject matter experts from the tyranny of clerical and mundane tasks. They then can use their expertise to wrestle with mission challenges and other complex demands.
There are more than a few examples. Here are two:
• Consider federal supply chain risk management efforts. "There really is a very shallow pool of subject matter experts out there in this area. Because that pool is so shallow, we have to turn to automation to help us," shares Brian Paap, cyber supply chain risk management lead at the Cybersecurity and Infrastructure Security Agency.
• Think about decision-making on the battlefield. "At the edge, the ability for things to be deployed and automated versus needing large teams of people to come in and to do those deployments is going to be critical. Warfighters are very talented folks, but they may lack the IT talent at the edge to do this. And that's where we think automation can be helpful," suggests Jim Keenan, vice president for DoD at Red Hat.
In the 10 articles, you will discover advice and insights from multiple agencies as well as AI leaders in industry. We hope it will help your organization mature its own use of AI/ML as you strive to make smart decisions faster by relying on data.
Vaness Roberts
Editor, Custom Content
Federal News Network
Download the full report to learn the latest AI advancements. Featuring insights from AI leaders at MarkLogic, Red Hat, ABBYY, H2O and DataRobot.
View and download complete report below.