Government agencies face increasing pressure to meet the pace of digital transformation set by the private sector. The number of digital advances that agencies could adopt to deliver better services to citizens are greater than ever before. We see innovations every day in the areas of mobility and social media, for example, yielding more opportunities for improvement in analytics and citizen engagement; and we hear citizens vocalizing their desires for a government that uses these advances as a means for faster, more transparent communication on a national scale.
However, despite their best intentions to meet those demands, the government's traditional "waterfall" process of careful, slow, deliberate planning and implementation just doesn't jibe with the lightning pace of the tech industry.
A less rigid paradigm of development is required for this area of government services, and that increasingly popular method is "Agile delivery."
Agile Cuts Cost….
Agile development is quickly becoming the preferred methodology for software development in the government sector. Unlike the linear trajectory of traditional project development methods, in which all the steps have been planned from start to finish before even taking the first step, the Agile approach is iterative, building continually upon each step. The hoped-for outcome of improved services at the lowest cost possible remains the same, but the way agencies arrive at the final product is far more organic.
… While Building Faster
The ability to "fail fast" using an Agile approach allows agencies to discover potential issues early on– for example, if the software has already become obsolete before the project's completion. An Agile process enables a quick turn-around, so agencies can course-correct without investing more money than necessary.
We've already seen what happens when a government agency's project is revived by Agile – saving money and shortening delivery timeframes exponentially. In the case of the FBI's Sentinel project, for example, the agency had already spent $400 million in five years before Jeff Johnson, FBI CTO and project manager, turned to Agile development methodology. Their strategized Agile approach vastly improved the program within just 20 months, with the (relatively) much cheaper price tag of $30 million. The FBI continues to enhance Sentinel's features and functionality, while maintaining security and performance, through Agile development today.
Success Rates Are High, Adoption Levels Are Low
Given the success that some major federal agencies have had with Agile it's easy to understand its increasing popularity in the public sector. In a recent study by Accenture in collaboration with NASCIO, the statistics around the popularity of Agile are overwhelmingly positive.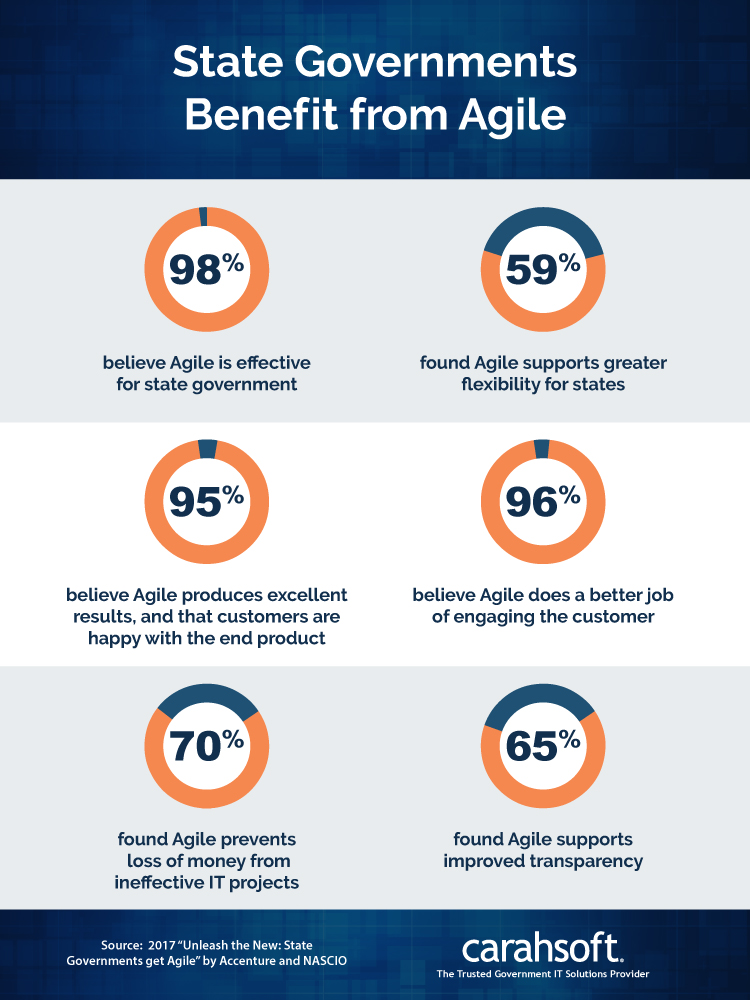 With those levels of satisfaction, it would stand to reason that large numbers of agencies across the public sector are currently using the Agile methodology. However, this is not the case.
The same study found that only 31% of state agencies have been using Agile for more than three years. Of those agencies using Agile, 59% are doing so on less than one-fifth of their projects, typically, in combination with other methods.
These numbers illustrate how far we still have to go to implement effective IT innovations, like Agile delivery, across the public sector at national, state and local levels.
Want to learn more about IT development in the public sector? Carahsoft is a proud sponsor of the 2017 NASCIO Conference on Oct. 1-4 in Austin, TX – join us, innovative CIOs, state members and agency representatives from across the country and leave with the knowledge you need to chart your agency's course to achieving digital transformation.