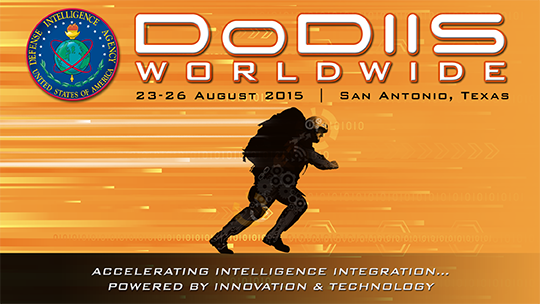 This year's Department of Defense Intelligence Information Systems (DoDIIS) Worldwide Conference will be held August 23 – 26 in San Antonio, Texas. This annual event, coordinated by NCSI and hosted by the Defense Intelligence Agency (DIA), brings together Intelligence Community experts from the government and private sector to share challenges, ideas, and successes.
This year's event theme is Accelerating Intelligence Integration-Powered by Innovation & Technology. Speakers covering the full spectrum of DoD, including the Director of the Defense Intelligence Agency, Chief Information Officer, Department of Defense, Director of Marine Corps Intelligence, Commander, and United States Africa Command, will address the integration theme.
Carahsoft will host a pavilion at the show with over 40 partners demonstrating technology solutions for the various needs of the Defense Intelligence Community. We are also holding a Tex-Mex themed reception, complete with margaritas and nachos, and featuring a Texas Hold'em tournament at the Marriott Rivercenter on Monday, August 24 from 5:30pm-8:00pm.
If you are attending, let us know what you are most interested in seeing and learning at the show. Hope to see you there!
For more information on the event, click here.